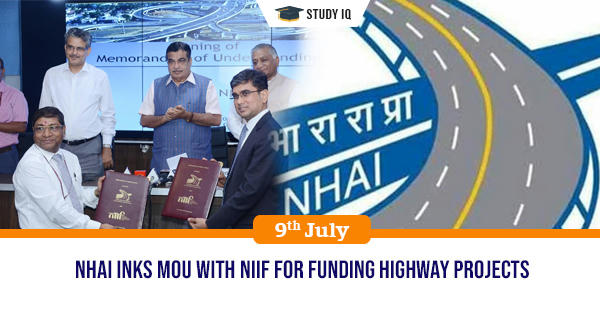 NHAI inks MoU with NIIF for funding highway projects
Date: 09 July 2019
Tags: Infrastructure
National Highways Authority of India (NHAI) signed MoU with National Investment and Infrastructure Fund (NIIF) for funding highway projects. The MoU is related to co-operation in formation of SPVs to execute fund arrangement for large size road projects particularly green field projects to be executed by NHAI in future. It is expected to bring huge amount of investment at economical rate for highway development in India and reduce stress of borrowing on NHAI balance sheet also.
Background
NHAI is raising finances from various sources for its mega projects, and is not dependent only upon budgetary support. It has adopted several funding models in the past towards this, which have yielded good results.
NHAI is also looking for innovative alternate source of funding to attract international investors and fund houses who are willing to invest in road projects in India but not very keen to take risk related to the project execution.
This MoU will provide innovative financial models including for the 24,000 km 7.5 lakh crore Bharatmala Pariyojana, thus contribute in a big way in achieving Government's dream of making India a five trillion dollar economy.
About National Investment and Infrastructure Fund (NIIF)
It is India's first sovereign wealth fund which was established by Central Government in February 2015 to give boost to the infrastructure sector in the country mainly through infrastructure investment in commercially viable projects, both Greenfield and Brownfield. It is headquartered in Mumbai.
Targeted corpus: It is of Rs 40,000 crore to be raised over the years — 49% of it will be funded by government and remaining 51% will be raised from domestic and global investors, including international pension funds, sovereign wealth funds, multilateral/bilateral investors.
Governing Council of NIIF: It is chaired by Finance Minister and act as an advisory council. Moreover, two companies viz. NIIFTL, a trustee of fund and NIIFL, an investment management company of NIIF were incorporated in 2015.
It manages three types of funds mainly: Fund of Funds, Master Fund and Strategic Fund. These funds were set up to make infrastructure investments in India by raising capital from domestic and international institutional investors. It currently manages funds of over US $3.4 billion. These funds have been registered with SEBI as a Category II Alternate Investment Fund.
Key Investors: Abu Dhabi Investment Authority (ADIA), ICICI Bank, HDFC group, Kotak Mahindra Life and Axis Bank along with the Government of India.