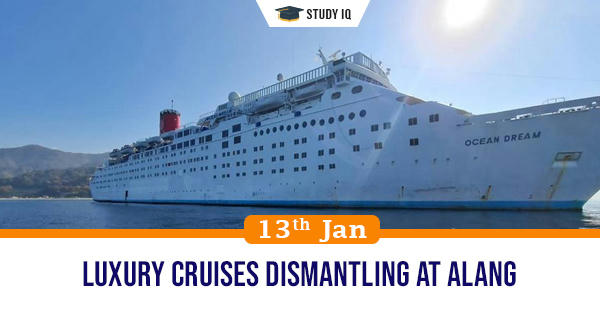 Luxury cruises dismantling at Alang
Date: 13 January 2021
Tags: Infrastructure
Issue
The Alang Shipbreaking Yard in Gujarat has been experiencing a large number of luxury crusie ships for dismantling.
Background
The pandemic has affected cruise business the hardest. The rich customers, especially Europeans and Americans, are hesitant to get back amidst the pandemic.
Details
The Covid-19 outbreak on cruise vessel Diamond Princess docked in Japan in February 2020 caused a global scare with regard to cruise tourism.

Many cruise owners have either been forced out of business or are facing bankruptcy amid interest on loans, and costs of insurance, crew maintenance, anchorage, and fuel costs.

Alang has always mirrored the global economy. In 2010-11 the freight market globally went through a crisis and the impact was felt in Alang when a record 415 ships came to the yard to be dismantled and sold as scrap.

In 2018, during a slump in the global oil market, every third vessel reaching Alang was either an oil rig or an oil tanker.

Container vessels and tankers constitute 99% of the traffic at Alang. Cruise ships currently reaching Alang are priced lower than container vessels.

The amount of steel in cruise is less, so they are sold cheaper compared to an oil tanker, bulk carriers or a container ship.
The salvaged material
Almost 30% of the steel salvaged from ships dismantled in Alang reaches re-rolling mills in Bhavnagar. Every year, 2.5-3 million tonnes of steel is salvaged from ships broken up in Alang.

There is also a huge market flourishing outside Alang yard where nearly 900 shops sell reusable parts from furniture, crockery, and carpets to consumer goods such as TV sets, refrigerators, boats and machinery.