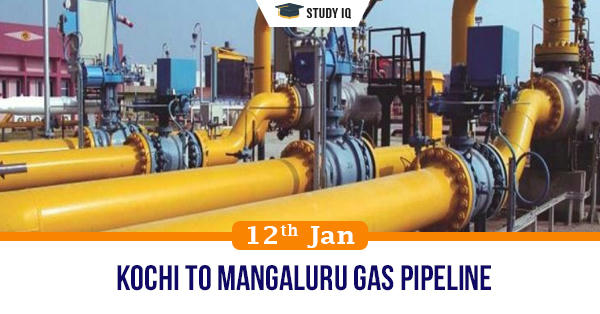 Kochi to Mangaluru gas pipeline
Date: 12 January 2021
Tags: Infrastructure
Issue
Prime Minister Narendra Modi recently dedicated to the nation the Kochi-Mangaluru natural gas pipeline of the Gail Authority of India Limited (GAIL).
Background
The pipeline will connect Kochi to Mangaluru to supply liquefied gas. A part of the line will be extended to Bengaluru.
Details
The objective of the pipeline is to supply natural gas for domestic and industrial use in Kerala and South India.

The pipeline passes through seven districts of Kerala to carry natural gas from Kochi to Bengaluru via Palakkad, with another leg taking it to Mangaluru.

The Kochi-Mangaluru line (444 km) has been opened while the Bengaluru leg is nearing completion.
History of protest
In 2009, the then government headed by V S Achuthanandan gave single-window clearance to the project, which should have been completed in 2013.

Protests took place as local people wanted the alignment along a sea route rather than through inhabited areas as they felt the pipeline was a ticking gas bomb.

After the new UDF government came to power, the protests intensified. The government suspended the survey and GAIL too suspended all contracts.

The Centre too wanted Kerala to give top priority to the project as the LNG terminal in Kochi was incurring huge losses.

The new LDF government increased the compensation amount for the acquired land, and reduced the width of the land to be acquired was reduced. After laying the pipeline, farmers were allowed to cultivate, except deep-rooted crops.

Right wing Muslim outfits led protests in many places and as the protests turned violent, the government ensured that work proceeded under police protection.
Benefits of the project
Cheaper LPG access to domestic consumers.

Cheaper LPG availability for industrial units such as fertilizers.

Creation of large number of direct and indirect employment.

Boost to CNG vehicles as easier access to the fuel becomes reality.