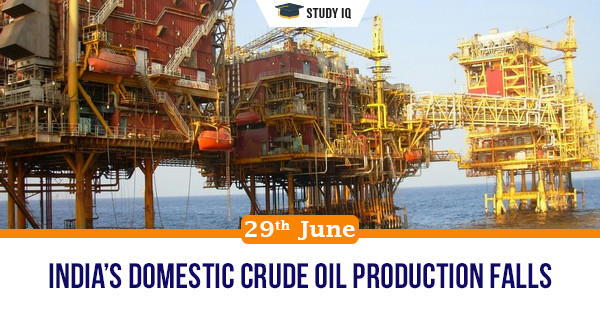 India's domestic crude oil production falls
Date: 29 June 2020
Tags: Infrastructure
Issue
India's crude oil production fell 7.1% in May 2020 compared to May 2019 on the back of low demand due to the Covid-19 pandemic.
Details
Most of India's crude oil production comes from aging wells that have become less productive over time. A lack of new oil discoveries in India coupled with a long lead time to begin production from discovered wells has led to a steady decline in India's crude oil production making India increasingly dependent on imports.

The output of these aging wells is declining faster than new wells can come up. Domestic exploration companies are attempting to extend the life of currently operational wells.

There are few private players in the upstream oil sector as there has been a lack of interest in exploration and production in India from major private players, particularly those based abroad.

This is because of long delays in the operationalization of production even after an oil block is allotted due to delays in approvals.

Some of the key approvals which are required to begin production include, environmental clearances and approval by the Directorate General of Hydrocarbons after the allottee completes a seismic survey and creates a field development plan.

Existing public and private sector players have asked for reduced levies of oil production including oil cess, royalties, and profit petroleum especially when crude oil prices are below $45/barrel.

The government introduced the Open Acreage Licensing Programme (OALP) in 2019 to allow companies to carve out blocks that they are interested in and with lower royalties and no oil cess. However, existing players are calling for a relaxation of royalties and oil cess on block allotted under previous policies.
Open Acreage Licensing Programme
Open Acreage Licensing Policy (OALP) gives an option to a company looking for exploring hydrocarbons to select the exploration blocks on its own, without waiting for the formal bid round from the Government.

The Government will examine the Expression of Interest and justification. If it is suitable for award, Govt. will call for competitive bids after obtaining necessary environmental and other clearances.