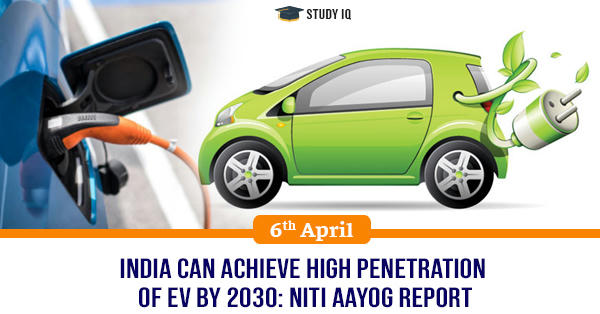 India can achieve high penetration of EV by 2030: NITI Aayog Report
Date: 06 April 2019
Tags: Infrastructure
According to recently published technical report "India's Electric Mobility Transformation: Progress to Date and Future Opportunities", India could achieve high penetration of Electric Vehicles (EVs) by 2030 on the back success of FAME II and other measure. The report was jointly published by NITI Aayog and US based Rocky Mountains Institute.
Report Highlights
Catalytic effect:

FAME II and other measures could have catalytic effect on overall EV market. If FAME II and other measures in public and private space - are successful, India could realize EV sales penetration of 30% of private cars, 70% of commercial cars, 40% of buses and 80% of two and three-wheelers by 2030.

Focus on PEP:

To achieve this Government should focus on phased manufacturing plan (PEP) to promote EVs, provide fiscal and non-fiscal incentives for phased manufacturing of EVs and batteries.

Policy Push:

To drive adaptation of EVs, different government departments should consider bouquet of potential policies such as congestion pricing, low emission/exclusion zones, ZEV credits, parking policies etc. to drive adaptation of EVs.

846 MT of CO2 Savings:

Significant high level market share of EVs in two, three, and four-wheelers and buses segment under FAME II will help to cumulative savings of 846 million tonnes (MT) of CO2 over total deployed vehicle's lifetime.

3.8 billion e-vkt:

Electric buses covered under FAME II will account for 3.8 billion vehicle kilometers travelled (e-vkt) over their lifetime.

5.4 MT of oil savings:

EVs eligible under FAME II scheme can save cumulatively 5.4 million tonnes of oil equivalent over their lifetime worth Rs. 17.2 thousand crore.
FAME II scheme
The second phase of Faster Adoption & Manufacturing of Electric and hybrid vehicles (FAME) scheme was notified by Union Cabinet in February 2019.

It aims to further accelerate India's commitment to clean mobility future and sees the electrification of transportation as primary focus areas.

It intendents to catalyse market for faster adaptation of EVs to ensure durable economic growth and global competitiveness for India's automotive industry.

Benefits under FAME II goes beyond vehicles eligible FAME I. For more details: About

FAME II

.