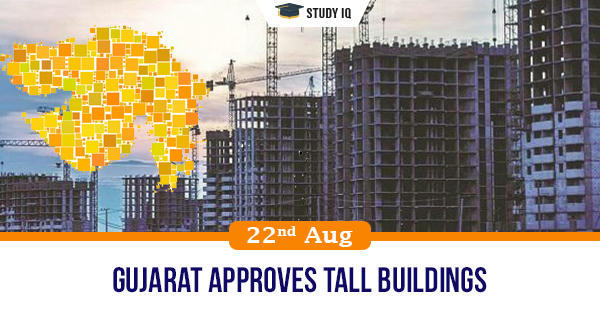 Gujarat approves tall buildings
Date: 22 August 2020
Tags: Infrastructure
Issue
Gujarat Chief Minister Vijay Rupani has approved construction of buildings of 70 floors or more in five major cities of the state.
Background
The state government has decided to amend the Common GDCR (general development control regulations) to allow construction of high-rise structures of 70 or more floors in Ahmedabad, Vadodara, Surat, Rajkot and Gandhinagar.
Details
The government does not intend to change the entire skyline in these cities. The main intent is to attract some iconic buildings in these cities.

Another reason cited by officials is that urban land is getting scarce and that horizontal development of cities need more land, which is getting expensive by the day.

The limit was 45 m during 2001 (Kutch earthquake) and then raised to 70 m (22-23 floors) in 2017. The new policy allows builders to go as high they wish, provided a road at least 30 m wide adjoins the plot and they have an airport no-objection certificate.

Skyscrapers can come up in zones that have an FSI (Floor Space Index) more than 1.2. The changes permit a total FSI up to 5.4.

While the government has said tall buildings will help bring down the cost of housing, builders say construction will be costlier.

The primary costs in constructing a tall building are foundation and labour. The higher the floors, the more the cost.

In most cities, where land rates are very high, skyscrapers are in demand. Other factors like scenic views and pollution play a role.

Ahmedabad and Gandhinagar are not far from the Cambay fault, and buildings in seismically active Kutch are not allowed more than one floor.

The CGDCR mandates that proposed tall buildings will have to follow the National Building Code which lays down design guidelines for construction in seismically active zones.

The Bureau of Indian Standards has special clauses for tall structures, including details like wind load and earthquake resistance. Foundation and structural requirements too are crucial.

Tall structures have to consider the horizontal load, how it will behave in an earthquake and the wind load, and the static load, which is the building's own weight and occupancy load.