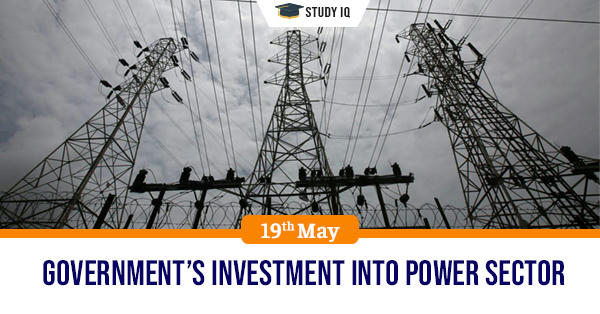 Government's investment into power sector
Date: 19 May 2020
Tags: Infrastructure
Issue
Part of the package announced by Finance Minister Nirmala Sitharaman on May 13 was a Rs 90,000-crore liquidity injection into power distribution companies (or discoms).
Background
The move is aimed at helping the discoms clear their dues with gencos (or electricity generation companies), who in turn can clear their outstanding dues with suppliers, such as coal miners, easing some of the working capital woes of Coal India Ltd and contract miners.
Details
The primary trigger is the poor financial condition and revenue collection abilities of most state discoms. This is despite several interventions, including a scheme called UDAY that was launched in 2015 to fix the problems of a sector where the upstream side (electricity generation) was drawing investments even as the downstream (distribution) side was leaking like a sieve.

Electricity is generated at thermal, hydro or renewable energy power plants, which are operated by either state-owned companies such as NTPC Ltd, NHPC Ltd, or private companies (also called Independent power producers or IPPs) such as Tata Power, Adani Power, or renewable companies such as ReNew Power or Greenko.

The generated electricity then moves through a complex transmission grid system comprising electricity substations, transformers, and power lines that connect electricity producers and the end-consumers.

This last mile link is where discoms come in, operated largely by state governments. However, in cities such as Delhi, Mumbai, Ahmedabad, and Kolkata, private entities own the entire distribution business or parts of it.

Discoms essentially purchase power from generation companies through power purchase agreements (PPAs), and then supply it to their consumers (in their area of distribution). The key issue with the power sector currently is the continuing problem of the poor financial situation of state discoms.

This has been affecting their ability to buy power for supply, and the ability to invest in improving the distribution infrastructure. Consequently, this impacts the quality of electricity that consumers receive.

Hence the intervention announced last week seeks to ensure time-bound funding assistance to discoms through PFC and REC, so that they can clear their bills.