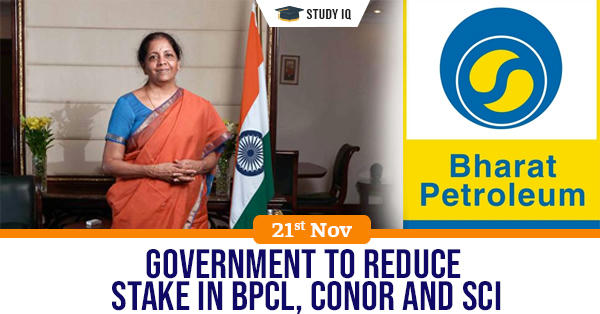 Government to reduce stake in BPCL, Conor and SCI
Date: 21 November 2019
Tags: Infrastructure
Issue
The Union Cabinet has taken decisions to significantly reduce its shareholding, and in some cases cede management control, in a number of public sector enterprises.
Background
The government has set a disinvestment target of ?1.05 lakh crore for the current financial year. So far, it has managed to collect only ?17,364.26 crore. The government had previously announced its decision to reduce its stake in some public sector companies while retaining management control through the shares in that company held by other PSUs.
Details
The government will sell its entire 53.29% stake in Bharat Petroleum Corporation Limited.

The government will also sell its entire 63.75% stake in Shipping Corporation of India and will cede management control to the strategic buyer.

Similarly, it will sell its 30.8% stake in the Container Corporation of India and hand over management control to the buyer.

The government would also sell its entire 74.23% stake in THDCIL and its 100% stake in North Eastern Electric Power Corporation to NTPC Ltd. Both firms will also see cede management control to NTPC.

It is expected that the strategic buyer/acquirer may bring in new management/technology/investment for the growth of these companies and may use innovative methods for their development.
Divestment
In finance and economics, divestment or divestiture is the reduction of some kind of asset for financial, ethical, or political objectives or sale of an existing business by a firm.
Disinvestment
Disinvestment means the dilution of stake of the Government in a public enterprise. Strategic disinvestment is transferring the ownership and control of a public sector entity to some other entity.

Strategic disinvestment would imply the sale of a substantial portion of the Government shareholding of a central public sector enterprises (CPSE) of upto 50%, or such higher percentage as the competent authority may determine, along with transfer of management control.