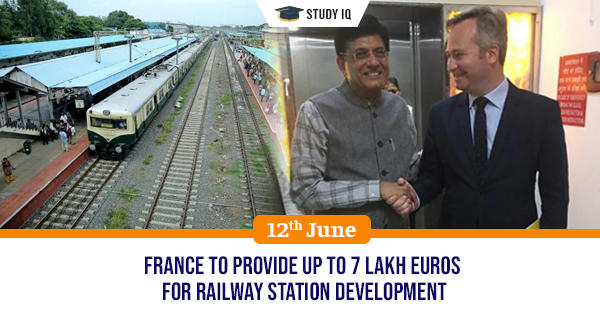 France to provide up to 7 lakh Euros for railway station development
Date: 12 June 2019
Tags: Infrastructure
Indian Railway Station Development Corporation (IRSDC) has entered into Tripartite Agreement with French National Railways (SNCF) and French Agency AFD to boost capacity building for railway station development program in India.
Key Facts
Under this agreement, AFD will provide financial grant up to 7,00,000 EURO, through French National Railways (SNCF)-Hubs and Connexions as Technical Partner to IRSDC.

This grant is meant to support Railway Station Development Program in India and will impose no financial liability on IRSDC or Indian Railways.

This effort will go long way in further strengthening Indo-French cooperation and will help Indian Railways in positioning its stations to world class standards.
Background
India and France have strong and long standing prosperous partnership in Railway sector. French Railways (SNCF) in past has been associated with Indian Railways in conducting speed upgradation study for Delhi-Chandigarh section and station development of Ludhiana & Ambala stations.
About Indian Railway Station Development Corporation (IRSDC)
It is special purpose vehicle (SPV) of Central Government incorporated to develop new stations and redevelop existing Indian railway stations.

It is a joint venture (JV) between IRCON and RLDA with 51:49 equity shareholding ratio respectively. It was incorporated under the Companies Act, 1956 in April 2012.