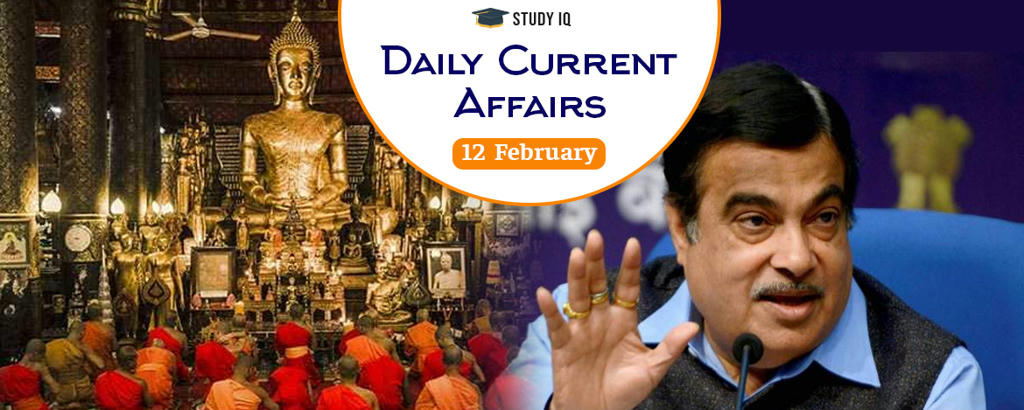 Government sanctions five projects under Buddhist Circuit
Date: 12 February 2019
Tags: Infrastructure
Union Ministry of Tourism has sanctioned five projects under Buddhist Circuit, one of the fifteen thematic circuits for development under Swadesh Darshan Scheme. Government is planning to make Buddhist Circuit under this scheme India's first trans-national tourist circuit. This circuit was initially limited to only to seven major Buddhist pilgrimage sites in Uttar Pradesh and Bihar, but now it has been expanded to 21 more states.
Five Projects approved are
Madhya Pradesh:

Development of circuit in Sanchi-Satna-Rewa-Mandsaur-Dhar.

Uttar Pradesh:

Development of circuit in Kushinagar, Srawasti and Kapilvastu.

Bihar:

Construction of Convention Centre adjacent to Maya Sarovar on western side at Bodhgaya, Bihar.

Gujarat: Development of circuit in Junagadh- Gir-Somnath- Bharuch-Kutch- Bhavnagar- Rajkot- Mehsana.

Andhra Pradesh:

Development of circuit in Shalihundam- Thotlakonda- Bavikonda- Bojjanakonda- Amravati-Anupu.
Swadesh Darshan scheme
It is one of flagship schemes of Ministry of Tourism launched in 2014 for development of thematic circuits i.e. theme-based tourist circuits across the country in a planned and prioritised manner.

These tourist circuits are being developed on the principles of high tourist value, competitiveness and sustainability in an integrated manner.

It is 100%centrally funded scheme. It also has provision for leveraging voluntary funding under Corporate Social Responsibility (CSR) initiatives of Central PSUs and corporate sector.

Total 15 thematic circuits so far have been identified for development under it. They are Buddhist, North-East India, Coastal, Himalayan, Krishna, Desert, Eco, Wildlife, Tribal, Rural, Sufi, Tirtankar, Spiritual, Ramayana and Heritage.

Such theme based tourist circuits are being developed in manner to supports communities, provide employment and fosters social integration without comprising upon environmental concerns and provides unique experiences to tourists.

The funding of projects under this scheme vary from state to state. It is finalised on basis of detailed project reports prepared by Programme Management Consultant (PMC) which is national level consultant for implementing the scheme.