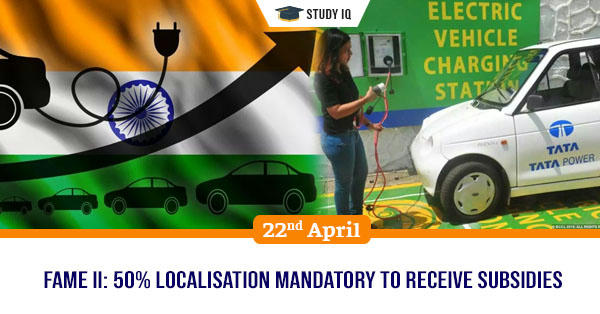 FAME II: 50% localisation mandatory to receive Subsidies
Date: 22 April 2019
Tags: Infrastructure
Government has decided made mandatory for Electric Vehicles (EV) manufacturers in India to locally source at least 50% components in order to receive subsidies and be eligible to bid for government orders under FAME II Scheme. This move is aimed encouraging local manufacturing and detering reliance on imports.
The incorporation of localisation conditions to avail benefits under the FAME-II Scheme was decided at Inter-Ministerial Steering Committee of National Mission for Transformative Mobility chaired by NITI Aayog chief executive officer (CEO) Amitabh Kant.
Outcomes of meeting
Only companies that meet the 50% localisation threshold will be eligible for incentives and subsidies under FAME II Scheme to boost electric mobility as well as 'Make in India' initiative.

The inter-,ministerial committee also has finalised mission's approach to make domestic industry competitive at the global level.

Government will adopt challenge route to select states and entrepreneurs to set up giga factories for large scale manufacturing of cells and batteries in the country.
Inter-ministerial committee of the national mission for transformative mobility
It was constituted following cabinet decision to promote clean and sustainable mobility initiatives in the country. It consists of secretary of nine stakeholder ministries and director general of the Bureau of Indian Standards as its members.
FAME India (Phase II) Scheme
It aims at promoting eco-friendly electric and hybrid vehicles in the country. The scheme is being administered by Union Ministry of Heavy Industries.

Objective:

Encourage faster adoption of electric vehicles (EVs) and hybrid vehicles by offering upfront Incentive on purchase of EVs and also by way of establishing necessary charging Infrastructure for electric vehicles. It also seeks to address issue of environmental pollution and fuel security.

Features:

It gives emphasis is on electrification of public transportation that includes shared transport.

It will give demand incentives on operational expenditure model for electric buses through State/city transport corporation (STUs).

In three and four wheelers segment, it will incentives to vehicles used for public transport or registered for commercial purposes. In two wheelers segment, it will focus on private vehicles.

It plans to support 10 Lakhs e-2W, 5 Lakhs e-3W, 55000 4Ws and 7000 Buses.

Encourage advance technologies:

Benefits of incentives under it will be extended to only those vehicles which are fitted with advance battery like Lithium Ion battery and other new battery technologies.

Charging Infrastructure:

It also proposes for establishment of charging infrastructure. It seeks seyting up about 2700 charging stations in metros, million plus cities, smart cities and cities of hilly states across the country to ensure availability of at least one charging station in grid of 3 km x 3 km.

It also proposes establishment of charging stations on major highways connecting major city clusters. On such highways, charging stations will be established on both sides of road at an interval of about 25 km each.