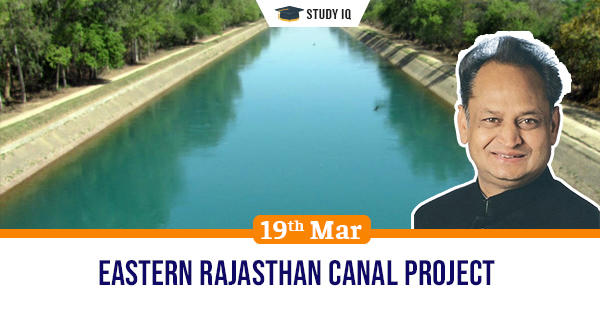 Eastern Rajasthan Canal project
Date: 19 March 2021
Tags: Infrastructure
Issue
The Rajasthan government has been demanding national project status for the Eastern Rajasthan Canal Project (ERCP).
Details
ERCP is very important to ensure water for drinking and irrigation purpose for 13 districts of eastern Rajasthan.

The project will make use of surplus water available during the rainy season in rivers of south Rajasthan such as Chambal and its tributaries including Kunnu, Parvati and Kalisindh.

The water will be used in south-eastern districts of the state where there is a shortage of water for drinking and irrigation.

The estimated duration for the project to complete is 10 years. The project was initially planned to be completed in three phases between 2017 and 2023.
Water condition in the state
Rajasthan is the largest state in India that occupies about 104 percent of the area but it holds only about 1.16 per cent of the country's surface water and 1.72 per cent of groundwater.

Only the Chambal River among the state's surface water holds surplus water but this water cannot be used directly as the area around the Kota barrage is identified as a crocodile sanctuary.

The ERCP aims to cover 23.67 per cent area of the state along with 41.13 per cent population of the state. It can happen only through a network of channels.
Benefits of the project
Around 4.31 lakh hectare will be irrigated because of this project. The ERCP will try to improve the groundwater in rural areas of the state.

The government aims to push the project as it will benefit the intended Delhi Mumbai Industrial Corridor (DMIC).