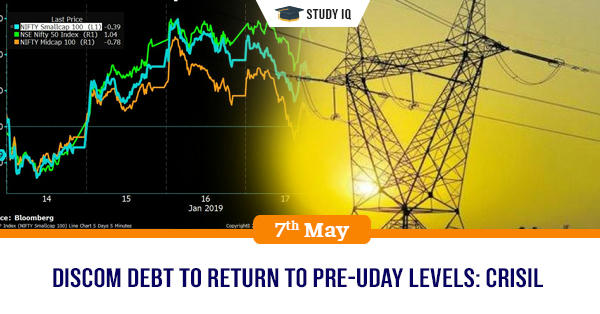 DISCOM debt to return to pre-UDAY levels: CRISIL Â 
Date: 07 May 2019
Tags: Infrastructure
According to Crisil's analysis in aggregate external debt of state-owned electricity distribution companies (discoms) is set to increase to pre-Ujwal Discom Assurance Yojana (UDAY) levels by end of fiscal 2019. It had analyzed state-owned discoms in 15 states, which account for 85% of the aggregate losses.
Key Facts
The main reason for increase in debt of discoms is lack of continuous financial support from states due to limited fiscal headroom, lack of prudent tariff hikes and material reduction in aggregate technical and commercial (AT&C) losses.
Background
As per MoUs signed by States under UDAY Scheme in fiscal 2016, their discoms were to initiate structural reforms by reducing AT&C losses by 900 basis points (bps) to about 15% in fiscal 2019 and also implement regular tariff hikes of 5-6% per annum. In return sate governments took over three-fourths of discom debt, thus reducing the interest cost burden.
However since debt takeover by state government, discoms enjoyed the benefit of debt reduction, but conditional structural reforms under UDAY Scheme have been slow. For instance, AT&C losses reduced by only 400 bps by December 2018 from pre-UDAY levels and average tariff increased paltry 3% per annum.
Ujjwal DISCOM Assurance Yojana (UDAY)
It was launched by Ministry of Power in 2015 for operational and financial turnaround of State owned Power Distribution Companies (DISCOMs).

It is aimed at making discoms financially and operationally healthy so they can supply adequate power at affordable rates.

It also envisaged financial turnaround, operational improvement, reduction of cost of generation of power, development of Renewable Energy, energy efficiency & conservation.

Its objective is to reduce interest burden, reduce cost of power, reduce power losses in distribution sector, and improve operational efficiency of DISCOMs.
This was to achieved through four initiatives
Improving operational efficiencies of DISCOMs

Reduction of cost of power;

Reduction in interest cost of DISCOMs;

Enforcing financial discipline on DISCOMs through alignment with State finances.
In return of this, state governments were to take over up to 75%% of their respective discoms' debt by issuing sovereign bonds to pay back lenders. Remaining 25%% of debt will be issued by discoms in the form of bonds.
The scheme is optional for the states to join. So far, 32 States and UTs have joined this scheme. West Bengal, Odisha, Delhi (UT) and Chandigarh (UT) have not joined it.