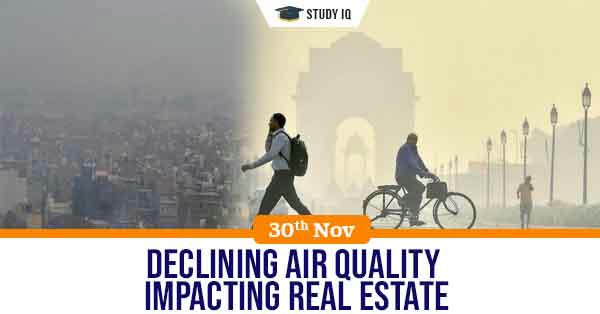 Declining air quality impacting real estate
Date: 30 November 2019
Tags: Infrastructure
Issue
A study has been conducted to find if declining air quality, especially in larger cities such as Delhi and Mumbai has been having an effect on real estate sector.
Background
The National Capital region's air quality has been hovering at 'severe pollution' levels. Skymet identified it as the world's most polluted city recently. It would be logical to assume that severe air pollution impacts a region's overall property market.
Details
A perennial 'high alert' throughout the year would have more serious implications on real estate, but it is a seasonal phenomenon.

Mumbai experiences floods during the monsoons, yet property prices there remain impervious to this annual event. Despite this, investments keep pouring in and its real estate market does not slow down on account of environmental factors.

Pollution is dangerous, but it is also a less obtrusive factor with no immediate destructive implications. Like seasonal flooding, pollution also has the unfortunate tendency of becoming an accepted feature for urban dwellers.

The slowdown in NCR's residential sales did impact prices and it was largely a function of people's money getting trapped in delayed or stuck projects, and the predictable loss of buyer trust. The demand for real estate in the region, across segments and sectors is strong and getting stronger.

Integrated townships on well-connected peripheries are steadily gaining relevance and demand. The demand for homes in the congested city centres, which offer the fastest access to workplace hubs, will remain undiminished.

Real estate prices in most Indian cities are not dictated by environmental factors as much as by affordability and their ability to provide employment and connectivity.

Transit infrastructure like Metros can reduce the use of fossil-fuel-driven vehicles, but in most Indian cities, support infrastructure is usually the last factor to be added.

Delhi-NCR's pollution will not cause less polluted far suburbs and adjoining cities to catch the spill-over demand of people looking for cleaner, healthier residence. These far suburbs and cities will eventually become equally polluted, once they gather enough economic momentum.