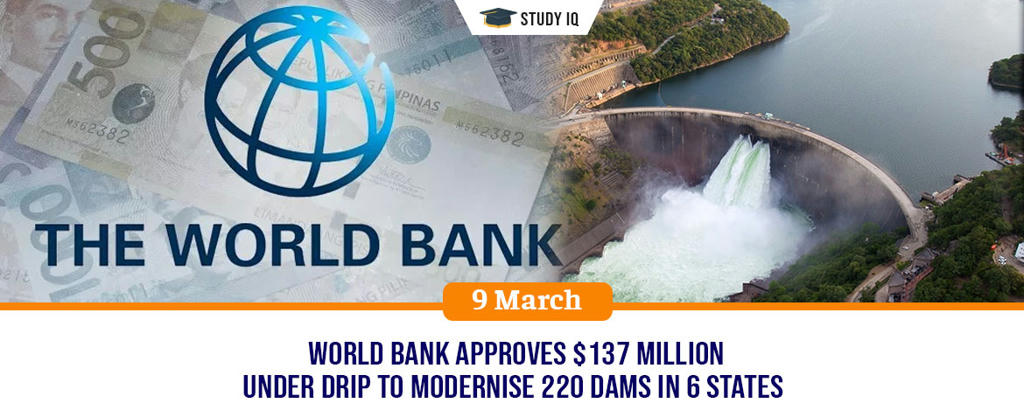 World Bank approves $137 million under DRIP to modernise 220 dams in 6 states
Date: 09 March 2019
Tags: Infrastructure
World Bank approved additional financing of US $137 million (about Rs. 960 crore) for Dam Rehabilitation and Improvement Project (DRIP) to rehabilitate and modernise over 220 selected large dams in six states. These dams are located in Karnataka, Kerala, Madhya Pradesh, Odisha, Tamil Nadu and Uttarakhand.
Dam Rehabilitation & Improvement Project (DRIP)
It aims at improving safety and operational performance of selected existing dams and associated appurtenances in a sustainable manner.

It also seeks at strengthening dam safety institutional setup of participating States/ Implementing Agencies.

Objectives:

(i) Rehabilitation of old dams in country experiencing distress and are in need of attention for ensuring their structural safety and operational efficiency. (ii) Strengthening institutional capacity and project management in this area. (iii) Bring greater awareness on dam safety issues and finding novel solutions to address them by pooling best knowledge, technologies and experience available around world.

Implementing agencies:

It is implemented by Ministry of Water Resources (MoWR) with assistance from the World Bank. Besides, Central Dam Safety Organisation of Central Water Commission (CWC) is coordinating and supervising body.

Funding:

It is externally-aided project. 80% of its total cost is provided by the World Bank as loan/credit and remaining 20% is borne by States/Central Government.