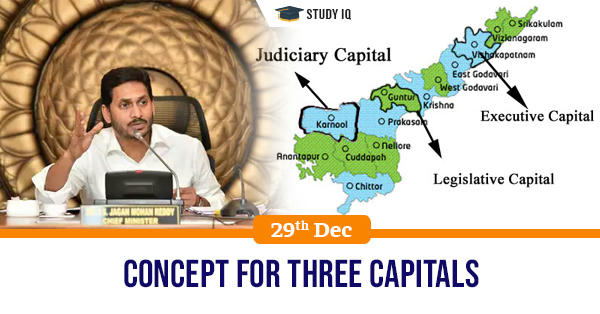 Concept for three capitals
Date: 29 December 2019
Tags: Infrastructure
Issue
Chief Minister Y S Jagan Mohan Reddy has hinted that Andhra Pradesh could have three decentralised capitals, on the lines of South Africa.
Background
The new capital being developed at Amaravati could become the "Legislative Capital", port city Visakhapatnam the "Executive Capital" and Kurnool the "Judicial Capital".
Details
Three capitals in South Africa
Three cities serve as capitals of the country– Pretoria (executive), Cape Town (legislative), and Bloemfontein (judicial).

This arrangement was a result of the Second Boer War (1899-1902) in which Britain annexed the two Afrikaner speaking states, the Orange Free State and the South African Republic (also called Transvaal Republic).

Cape of Good Hope then remained in the British Empire, becoming self-governing in 1872, and uniting with three other colonies to form the Union of South Africa in 1910.
Other multiple capitals
In Sri Lanka, Sri Jayawardenepura Kotte is the official capital and seat of national legislature, while Colombo is the de facto seat of national executive and judicial bodies.

Malaysia has its official and royal capital and seat of national legislature at Kuala Lumpur, and Putrajaya is the administrative centre and seat of national judiciary.

Among Indian states, Maharashtra has two capitals– Mumbai and Nagpur (which holds the winter session of the state assembly).

Himachal Pradesh has capitals at Shimla and Dharamshala (winter).

The former state of Jammu & Kashmir had Srinagar and Jammu (winter) as capitals.
Benefits of three capitals
If the capital has been divided then investors will be compelled to invest in the new cities which will help in distribution of wealth across different regions of the country or the state.
If well developed cities are available across different regions then there will not be any need for rural population to flock to one part of the country/state for livelihood.
Certain capital cities face extreme climatic conditions which can be avoided if alternate arrangement in form of second capital is available.
Ex: Winter and summer capitals in Jammu and Kashmir.