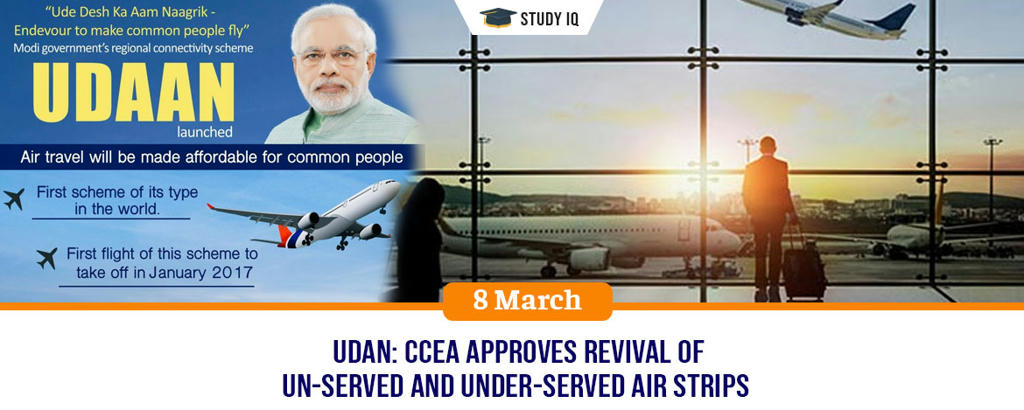 UDAN: CCEA approves revival of un-served and under-served air strips
Date: 08 March 2019
Tags: Infrastructure
Cabinet Committee on Economic Affairs (CCEA) has approved extension of time and scope for revival and development of un-served and under-served air strips of Airports Authority of India (AAI), State Governments, Civil enclaves, CPSUs, helipads and water aerodromes. The revival of these un-served and under-served air strips will be carried out with budgetary support of Union Government under Regional Connectivity Scheme (RCS) - UDAN (Ude Desh ka Aam Naagrik).
Benefits
It will allow small cities and towns to be connected on commencement of operation of flights to under-served and un-served airports.

It will also boost economic development of these areas as well as surrounding areas in terms of job creation and related infrastructure development.
UDAN (Ude Desh Ka Aam Naagrik) Scheme
It is flagship scheme of Ministry of Civil Aviation to enable air operations on unserved routes, connecting regional areas, to promote balanced regional growth and to make flying affordable for masses.
It was launched in April 2017. It is key component of the National Civil Aviation Policy (NCAP) which was launched in June 2016.
Objectives: (i) Facilitate/stimulate regional air connectivity by making it cheap and affordable. (ii) Promote affordability of regional air connectivity is envisioned under Regional Connectivity Scheme (RCD) by supporting airline operators through: Concessions and Financial (viability gap funding or VGF) support.
Under it, 24 airports in western region, 17 in northern region, 11 in southern region, 12 in east and six in north-eastern parts of country will be connected. Moreover, around 50 unserved and under-served airports will be also connected.