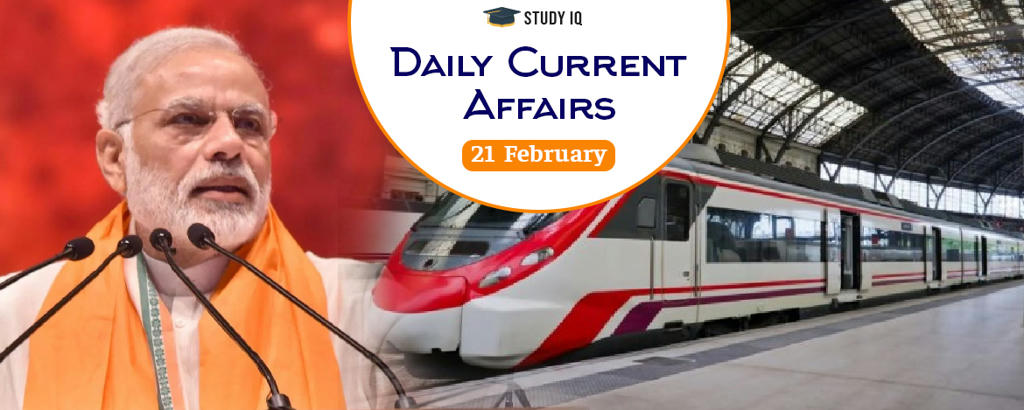 Cabinet approves Delhi-Ghaziabad-Meerut Regional Rapid Transit System
Date: 21 February 2019
Tags: Infrastructure
The Union Cabinet has approved construction of Regional Rapid Transit System (RRTS) to connect national capital Delhi with Ghaziabad and Meerut. It will first rail-based, high-speed regional transit system project to be implemented in India.
Regional Rapid Transit System (RRTS)
RRTS is rail-based, high-speed regional transit system. It aims to streamline urban transportation system, which is stressed due to intensive developments and increase in number of private vehicles.

It provides people a safe, secure, reliable, fast and comfortable public transport and reduce stress on existing travel infrastructure and industrial activities.
Delhi-Ghaziabad-Meerut RRTS
It will cover distance of 82.15 kms. (68.03 kms. elevated and 14.12 km. underground). Once operational, it will be fastest, most comfortable and safest mode of commuter transport in Delhi NCR).

This project involves integration with other urban transport systems in efficient and effective manner by adopting innovative methods of designing, technology and institutional management.

It will be implanted by Special Purpose Vehicle (SPV) namely National Capital Region Transport Corporation (NCRTC).

NCRTC will be joint ownership of Centre and State Governments with equal contribution, loan from multilateral/bilateral agency through Department of Economic Affairs (DEA), Finance Ministry.

Benefits:

It will provide much-needed additional public transport infrastructure to NCR to address issues of congestion, air-pollution and catalyse balanced and sustainable regional development.

It will provide high speed mobility and efficient regional connectivity. It will drive balanced socio-economic growth with increased economic activities and improve quality of life of citizens.