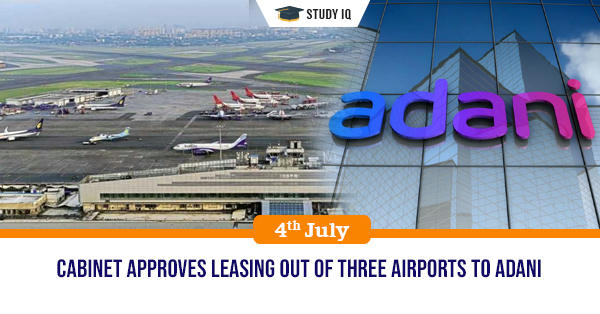 Cabinet approves leasing out of three airports to Adani
Date: 04 July 2019
Tags: Infrastructure
The Union Cabinet chaired by Prime Minister Narendra Modi has approved proposal for leasing out of three airports currently operated by Airports Authority of India (AAI) to Adani Enterprise. These three airports are Ahmedabad (Gujarat), Lucknow (Uttar Pradesh) and Mangaluru (Karnataka).
Background
The airport leasing proposal for managing six AAI-run airports on a public-private partnership (PPP) basis was approved by Union Government in November 2019 through Public Private Partnership (PPP) on basis of per-passenger fee bidding (Per-passenger fee model). It had received 32 technical bids from 10 companies.
Adani Enterprises Ltd It had quoted highest bid for these airports, for operation, management and development under PPP for lease period of 50 years as per terms and conditions of the bid documents. Earlier Adani group also had won bids to operate three airports owned by AAI viz. Jaipur (Rajasthan), Guwahati (Assam) and Thiruvananthapuram (Kerala) for period of 50 years.
This is Government's first airport privatisation attempt in 13 years after GVK and GMR groups had won right to manage Mumbai and Delhi (IGI) airports in 2006. Greenfield airports in Hyderabad and Bengaluru were also awarded at the same time.
Impact: The leasing of these airports under PPP will help to bring efficiency in delivery, expertise, enterprise and professionalism apart from harnessing needed investments in the public sector. This will also result in enhanced revenues to AAI, which may lead to further investment by AAI at Tier II and Tier III cities and economic development in these areas in terms of related infrastructure and job creation.
Per-passenger fee model
Under this model, airport operator needs to pay fixed charges per passenger on monthly basis to AAI. For instance, if 1 lakh passengers use particular airport in a year, the operator pays charge multiplied by number of passengers for entire year to AAI. This provides an incentive for airport operator to grow revenue as there is no sharing while AAI benefits from growth in passengers. It serves as an alternative to revenue sharing model which has become unviable for airports if there is high revenue sharing with AAI.