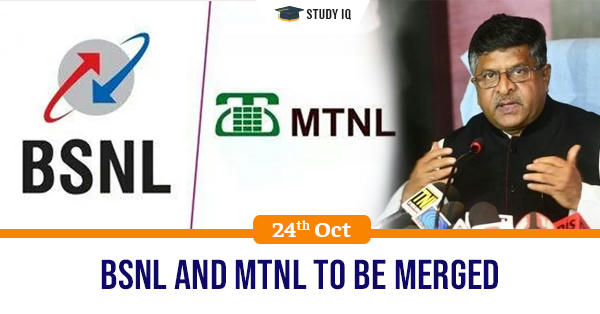 BSNL and MTNL to be merged
Date: 24 October 2019
Tags: Infrastructure
Issue
In order to revive loss-making telecom PSUs BSNL and MTNL, the government has decided to merge the two ailing firms. The package also includes raising sovereign bonds, monetising assets and voluntary retirement scheme (VRS) for employees.

Background
As part of the revival package, MTNL will be merged with BSNL. MTNL will act as subsidary of BSNL and will remain unlisted.

Details
BSNL, which was once a Navatna company, has become a sick one, with accumulated losses of more than Rs 90,000 crore.

The government also announced that 4G spectrum will be allocated to BSNL and MTNL to make them more competetive.

The government is said to invest Rs 29,937 crore in this revival plan with the combined assets of the two companies worth Rs 38,000 crore to be monetized.

The ailing companies will raise a sovereign bond of Rs 15,000 crore for their revival.

Experts believe that the merger, along with the proposed voluntary retirement scheme (VRS) package, can help contain operational costs, but it may not be sufficient to revive the sagging fortunes.

It is also believed that the government is trying to provide an honourable exit to the employees and will finally shut down a majority of its operations.