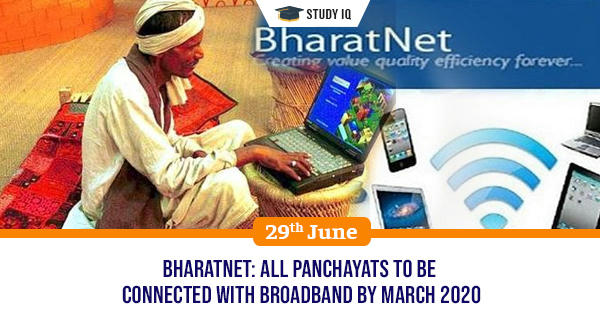 BharatNet: All panchayats to be connected with broadband by March 2020
Date: 29 June 2019
Tags: Infrastructure
Union Telecom Minister Ravi Shankar Prasad in written reply to Lok Sabha has informed that all panchayats will be provided high speed broadband connections under BharatNet project by March 2020. The Phase II of this project is under implementation, and total of 2 lakh gram panchayats (GPs) are targeted to be completed by March 2020. Government already has connected 1 lakh GPs under phase 1 of BharatNet project.
About BharatNet Project
It is Centre's flagship rural internet connectivity programme. It is world's largest rural broadband connectivity programme using underground Optical fibre.

It aims to connect all 2.5 Lakh gram panchayats (GPs) across Indian through optical fibre to provide affordable broadband connectivity of 2 Mbps to 20 Mbps to realise vision of Digital India.

Funding:

It is funded by Universal service Obligation Fund (USOF).

Implementng agencies:

It is implemented by Bharat Broadband Network Limited (BBNL), under Mi nistry of Communications.

Universal Service Obligation Fund (USOF):

It was formed by Central Government to help fund projects to boost connectivity in rural areas. The money for this fund comes through 'Universal Access Levy,' charged from telecom operators as percentage of various licenses fees being paid by them.