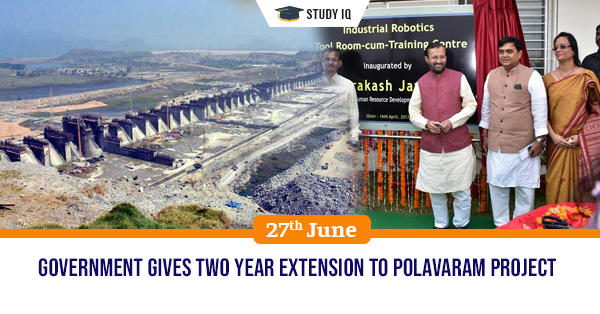 Government gives two year extension to Polavaram Project
Date: 27 June 2019
Tags: Infrastructure
The Union Ministry of Environment, Forests and Climate Chagne (MoEFCC) extended the construction period for the Polavaram Multipurpose Project in Andhra Pradesh by two year.
About Polavaram Project
It is under-construction multi-purpose irrigation project. It envisages construction of Earth-cum-Rock fill dam across river Godavari. This dam's maximum height is 48 m.

It is located in the West Godavari District and East Godavari District in Andhra Pradesh. Its reservoir spreads into parts of Chhattisgarh and Odisha.

In 2014, Union Government had declared Polavaram project a National project. Later in May 2014 Union Cabinet had constituted Polavaram Project Authority.

On completion it will irrigate nearly 3 lakh ha of land in Andhra Pradesh, generate hydel power with installed capacity of 960 MW and provide drinking water facilities to 540 enroute villages covering 25 lakh populations in Visakhapatnam, East Godavari and West Godavari and Krishna districts of Andhra Pradesh.