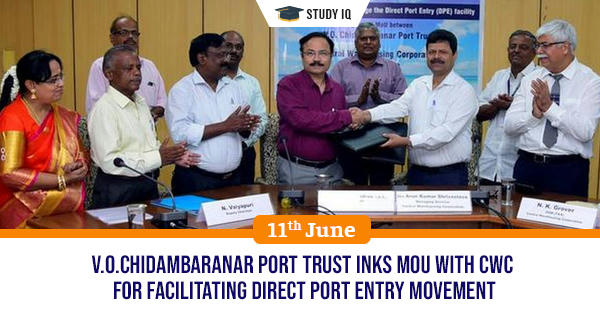 V.O.Chidambaranar Port Trust inks MoU with CWC for facilitating Direct Port Entry Movement
Date: 11 June 2019
Tags: Industries
The V.O. Chidambaranar Port Trust, Tuticorin has singed MoU with Central Warehousing Corporation (CWC) for facilitating Direct Port Entry (DPE) of e-sealed factory stuffed export container to the port under 'Ease of Doing Business'.
About Direct Port Entry (DPE) facility
It has been made available by Tuticorn port at its Truck Parking Terminal for CWC for 30 years on Annual Lease Rental basis. It will enable direct movement of sealed containers from factories without intermediate handling requirement at any Container Freight Station (CFS) thus facilitating shippers to gate-in their factory-stuffed goods directly to Container Terminal on 24 x 7 basis. It will make process of export clearance of factory stuffed e-sealed containers faster and reduce time and cost incurred on it.
V. O. Chidambaranar Port Trust
It was formerly known as Tuticorin Port Trust. It is one of the 12 major ports in India. It is second-largest port in Tamil Nadu and fourth-largest container terminal in India. It is located in Gulf of Mannar. It was opened in 1974. It is named after freedom fighter and leader of Indian National Congress Vallinayagan Olaganathan Chidambaram (1872 – 1936) He is also known as Kappalottiya Tamizhan (The Tamil Helmsman). It is an ISO 9001:2008,ISO 14001:2004 and ISPS compliant Port.