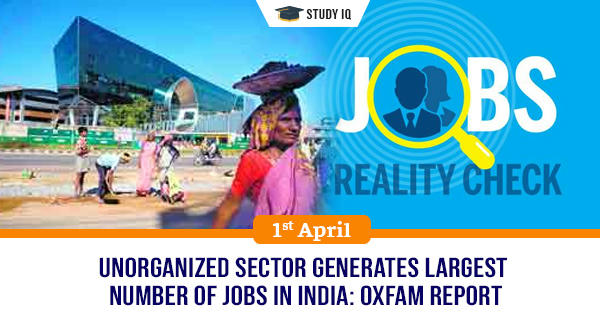 Unorganized sector generates largest number of jobs in India: Oxfam Report
Date: 01 April 2019
Tags: Miscellaneous, Industries
According to Oxfam's recently released 'Mind The Gap - State of Employment in India' report, in India, largest number of jobs are generated in the unorganized sector. The report also highlights that lack of quality jobs and increasing wage disparity are key markers of inequality in the Indian labour market
Highlights of report
Largest number of jobs were generated in the unorganized sector, which highlights questions over India's growth data and not being reflected in the growth of jobs.

Women's participation:

Regressive social norms continue to hamper women's participation in the workforce. On an average, women are paid 34% less than similarly qualified male workers for performing the same tasks.

Women are being left out of economic growth narrative as a consequence of poor policy choices and lack of investment in social security and infrastructure.

Demonitisation:

Job generation was adversely impacted after demonetization and hit the women workforce most. There is decline in rural jobs.

Post-demonetisation period also saw drop in households with two or more persons being employed.

Between January and October 2016, 34.8% households saw two or more persons employed. Post-demonetisation, this dropped to 31.8% with women workers becoming the first casualties of job losses.

Social realities:

Class and caste still continue to play crucial roles in determining employment for men and women, especially in stigmatised vocations like sanitation, jobs in the leather industry and rag-picking. Discrimination also exists in terms of market participation

Policy interventions:

Economic factors can be improved by way of policy interventions. There is need shift in development focus towards labour intensive sectors to create more jobs and pushes for better work conditions to make jobs more inclusive.

There is need for higher investments in health and education to improve productivity.

Disparities in education system:

Students from state education boards do considerably worse than those of independent national boards that cater to richer, better schools.

Within public education system, there are also glaring inequalities in educational investment.