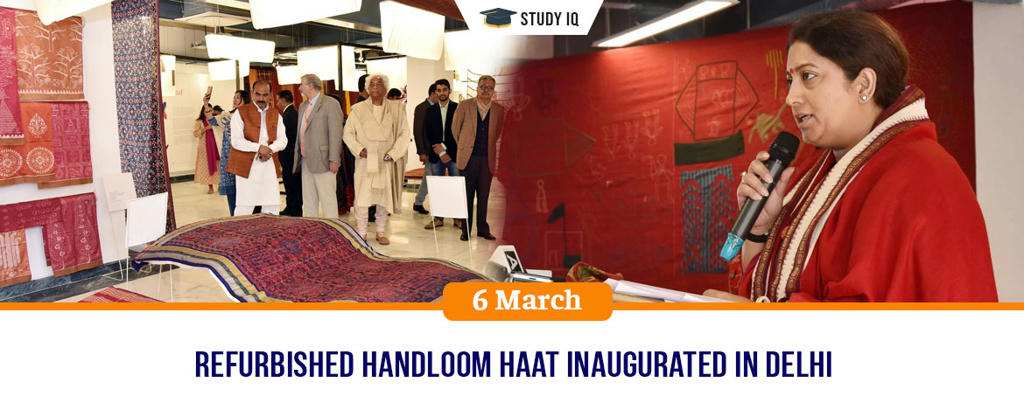 Refurbished Handloom Haat inaugurated in New Delhi
Date: 06 March 2019
Tags: Industries
Union Ministry of Textiles inaugurated renovated Handloom Haat in New Delhi. Besides it also launched three projects of NIFT - VisionNXT – Trend Forecasting Initiative, Indian Textiles and Craft Repository Initiative and Design Innovation and Incubation Initiative.
Handloom Haat
It has been set up at Janpath in New Delhi to provide marketing opportunities to authentic handloom products from various States, PSUs and cooperative societies.

Objectives:

(i) Provide infrastructure support to handloom agencies to augment their sales of handloom products. (ii) Showcase exquisite variety of handloom products produced all over the country.
VisionNxt initiative
Launched by National Institute of Fashion Technology (NIFT) to create indigenous fashion forecasting service that endeavours to design seasonal directions for the country.

It will provide trend forecasting service aligned to national and sub-national socio-cultural constructs and market requirements.

Its service is based on premise that fashion is dynamic industry and depending on seasonal trends and forecast to predict its future direction.

It will help handloom sector in production of handloom products as per market requirement in terms of trends, design and colour forecast.
Indian Textiles and Craft Repository Initiative
It is launched by NIFT and is supported by DC Handlooms andDC Handicrafts, Ministry of Textiles.

It will channel textile and craft knowledge generated into national knowledge portal titled Indian Textile & Craft Repository.

It will also house virtual registers of textiles and crafts resources, which are available in Weaver Service Centres, Crafts Museums, similar institutions and private collections.

It will develop virtual museum of textiles and textile crafts, designer archive, indigenous case studies and act as aggregator of online information on related research.

This virtual museum will have digitised resource of traditional archived pieces from museums, resource centres, weavers' service centres.

It will also have contemporary pieces and collections from designers, fashion archives. This will help in easy sourcing of designs.
Design Innovation and Incubation (DII) Initiative
It is intended to support young entrepreneurs, artisans, start-ups, NIFT alumni and students. It will also facilitate collaborations relevant for business development.

Its targeted beneficiaries include NIFT alumni and students who would like to start entrepreneurial ventures as those who are not part of NIFT.

Under it incubation facilities (Regional Incubators) will be set up in Mumbai, New Delhi and Bengaluru campuses of NIFT.