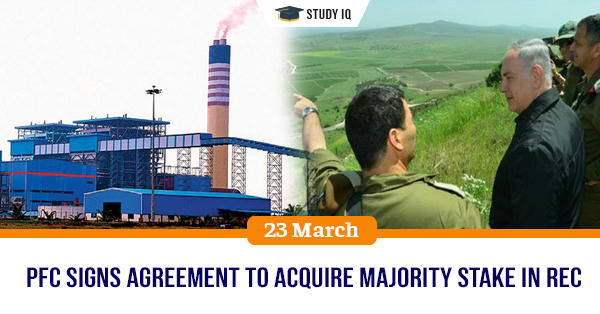 PFC signs agreement to acquire majority stake in REC
Date: 23 March 2019
Tags: Industries
State-owned Power Finance Corporation (PFC) has signed share purchase agreement to acquire all 52.63% shares of Central Government in Rural Electrification Corporation (REC) for about Rs 14,500 crore. It is in pursuance to the in-principle approval of December 2018 from Cabinet Committee on Economic Affairs for strategic sale of REC.
Under this agreement, PFC will acquire 103.94 crore equity shares of Rs 10 of REC from President constituting 52.63% of paid-up share capital. With this PFC is now slated to become a promoter and the holding company of REC.
Significance of acquisition
It is step towards consolidation of companies operating in the same space. Both PFC and REC are navratna central public sector enterprises with combined annual revenues of about Rs 50,000 crore.

It will enable increased efficiencies in lending processes and policies across both companies and create public value by offering better loan products to power sector.

It will help the power sector reap benefits from a decentralised outreach of REC and a professional project finance expertise of PFC.

It will ensure diversification of assets of the group, as well as portfolio risk will help in resolution of stressed power sector assets of the group in a better and coordinated manner.