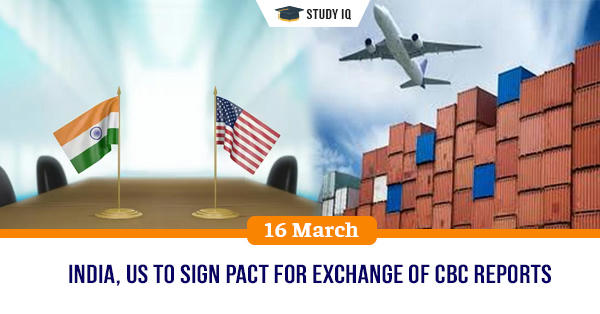 India, US to sign pact for exchange of CbC reports
Date: 16 March 2019
Tags: Services, Industries
India and US has agreed to sign relevant bilateral agreement for exchange country-by-country (CbC) reports (local filing) filed by ultimate parent corporations based in either of the countries. This agreement will reduce compliance burden on subsidiaries of companies operating out of these countries.
Background
Income Tax Act requires subsidiaries of multinational companies (MNCs) to provide details of key financial statements from other jurisdictions from where they operate.

This provides IT Department (CBDT in this case) with operational view of such companies, primarily with regards to revenue and income tax paid.

The absence of an agreement between India and US till now entailed a possibility of local filing of CbC reports in India.
CbC reports filing
Its objective is to ensure that all relevant tax authorities have access to same information about an MNC's value chain and resulting tax consequences.

It seeks to assist tax administration in having complete understanding of MNCs operations structure, by annually providing them with key information on global allocation of incomes and taxes paid.

Under this regime, CbC reports gets electronically transmitted between competent authorities as per signed framework.

In India, this provision is part of base erosion and profit sharing (BEPS) action plan and has been incorporated in IT Act.
Benefits of India-US CbC agreement
It will enable both the countries to exchange CbC reports filed by ultimate parent entities of international groups in the respective jurisdictions.

Indian constituent entities of international groups headquartered in US, who have already filed CbC reports in US, will not be required to do local filing of CbC reports of their international groups in India.