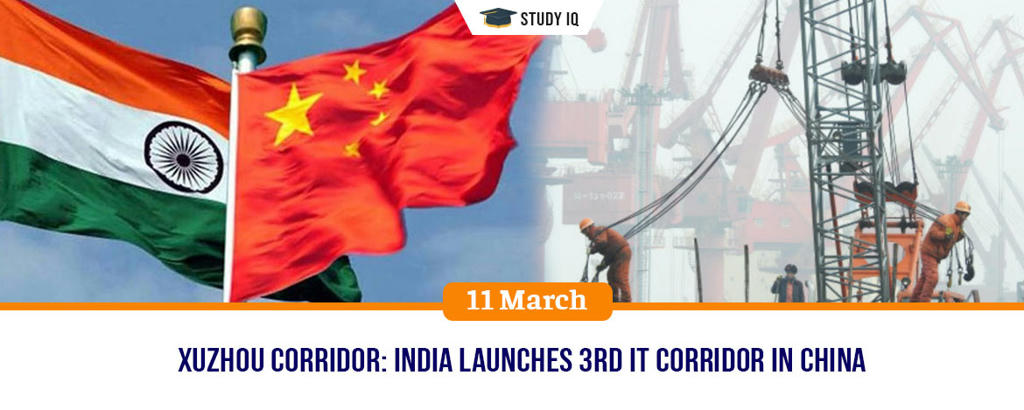 Xuzhou Corridor: India launches 3rd IT corridor in China
Date: 11 March 2019
Tags: Services, Industries
India launched its third IT corridor in China's Xuzhou city (Jiangsu Province) that will facilitate partnerships between Indian and Chinese IT companies. In this regard, National Association of Software and Services Companies (NASSCOM) has entered into partnership with China's Xuzhou city to help develop the IT corridor.
Xuzhou is centre of Huai Hai economic zone in China. It is important comprehensive national transportation hub and is located close to proximity of China's major industrial and economic hub like Shanghai, Beijing, Hangzhou, Nanjing and Suzhou.
Xuzhou city IT Corridor
The primary aim of this IT corridor is to facilitate partnerships between Indian and Chinese companies.

It will enable Indian software and service industry associations to enter Chinese market and seize development opportunities in China.

It will also facilitate match-making between Indian companies wanting to collaborate with Chinese companies who are looking to adopt digital transformation from verticals such as manufacturing, automotive, healthcare, retail and utilities and help them create innovative product and solutions in co-create mode.

It will help create more jobs in China and India and facilitate talent transfer between the two countries.
Previous corridors
NASSCOM already has launched such IT corridors at Dalian and Guiyang cities of China to cash in on burgeoning Chinese IT industry market.

These first two corridors have paved way for cooperation in co-create mode in emerging technologies such as AI, IoT and Analytics in the Chinese market.

Through these two corridors, NASSCOM has brought to fore opportunities with over 300 companies where more than 10 Indian SME companies have signed deals worth 31 Million RMB (USD 4.5 million).

These corridors already have sprung up business opportunities to tune of 24 Million RMB (USD 4.6 million) and 62 Million RMB (USD 8.9 million) respectively.