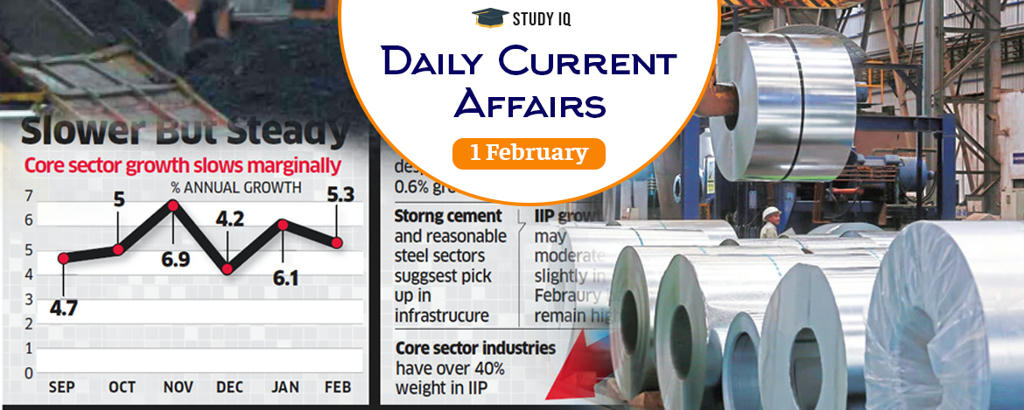 Eight core industries record 2.6% growth in December 2018
Date: 01 February 2019
Tags: Industries
According to index of eight core industries (ICI) released by Union Ministry of Commerce and Industry, growth rate of eight infrastructure sectors slowed down to 2.6% in December 2018. It was slowest growth of core sectors recorded in last 18 months. This was mainly due to contraction in production in crude oil, refinery products and fertilisers sectors.
Key Facts
These core sectors had recorded 3.4% growth in November 2018. During April-December 2018 period, these sectors recorded growth of 4.8% compared to 3.9% in same period of the previous fiscal.
Sector wise performance - December 2018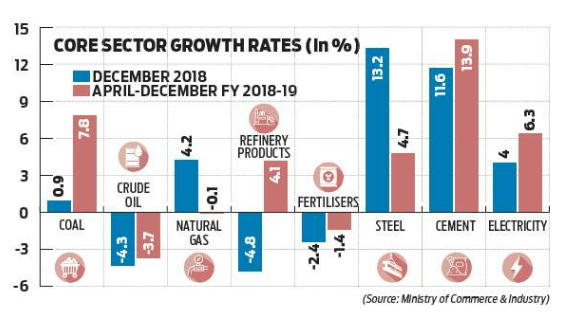 Index of Eight Core Industries (ICI)
It is monthly production volume index of eight core industries of the economy. It is considered as lead indicator of monthly industrial performance. Its base year has been revised to 2011-12.

It measures individual as well as collective performance of production in selected eight core industries viz. Petroleum Refinery Products, Natural Gas, Coal, Fertilizers, Crude Oil, Steel, Cement and Electricity.

These eights industries are main industry of the economy i.e. are considered as backbone of all other industries.

It is compiled and released by Office of Economic Adviser (OEA), Department for Promotion of Industry and Internal Trade (earlier DIPP), Ministry of Commerce & Industry.

These eight core industries have impact on general economic activities as well as industrial activities. They constitute 40.27% of total of the weight of items included Index of Industrial Production (IIP).

Components and weightages covered in ICI:

Petroleum Refinery production (weight: 28.04%), electricity generation (9.85%), Steel production (17.92%), Coal production (10.33%), Crude Oil production (8.98%), Natural Gas production (6,88%), Cement production (5.37%) and Fertilizers production (2.63%).

Note:

Highest weightage is for Petroleum Refinery production (weight: 28.04%) and lowest is for Fertilizers production (2.63%).