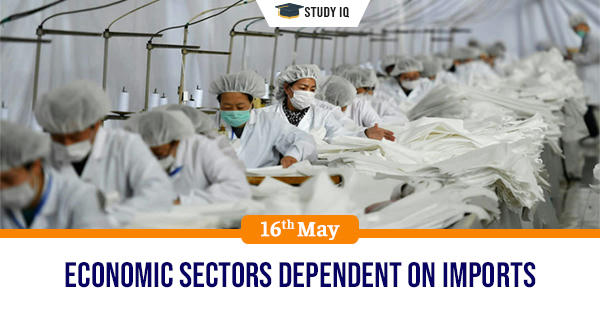 Economic sectors dependent on imports
Date: 16 May 2020
Tags: Industries
Issue
Prime Minister Narendra Modi brought up the importance of local manufacturing and consumption of locally produced goods, stating that Indians needed to become "vocal for local".
Details
Electrical equipment such as smartphones and computers are a key part of India's import bill. The value addition in India's electronics industry is limited to mostly assembly, while the country depends on imports to access most of the primary and critical components used to make them, including printed circuit boards (PCBs).

For instance, around 88 percent of the components used by the mobile handsets industry are imported from countries like China.

Over 60 percent of the country's medical devices are imported as well. Other products heavily imported into the country are cells and modules used by the country's solar power industry.

India's pharmaceutical industry is capable of making finished formulations, and also has domestic manufacturers of several key ingredients used to make them. However, the industry also imports some key ingredients for antibiotics and vitamins currently not manufactured in India.

The country is currently trying to encourage domestic firms to make these key ingredients, known as fermentation-based APIs. However, this may take a few years. India imported around Rs 249 billion worth of key ingredients, including fermentation-based ingredients, in FY19, and this accounted for approximately 40 percent of the overall domestic consumption.

Medical devices like ventilators also rely on imports of several crucial components like solenoid valves and pressure sensors.

Some auto manufacturers depend on imports for various components, while the country's electric vehicles industry is dependent, to a large extent on Chinese imports for chemicals used to make cathodes and battery cells.

Local dyestuff units in India are also heavily dependent on imports of several raw materials, while specialty chemicals for textiles like denim are also imported.

The manufacture of some of the key products that India imports such as semiconductors, displays and other very capital intensive electrical equipment may not be possible soon as manufacturing these requires large, stable sources of clean water and electricity.

A key issue holding back manufacturing in the country and a lack of flexibility in labour laws, high costs and low availability of land and high cost of electricity. Some states including UP and Madhya Pradesh have relaxed some labour laws with Karnataka likely to follow suit.