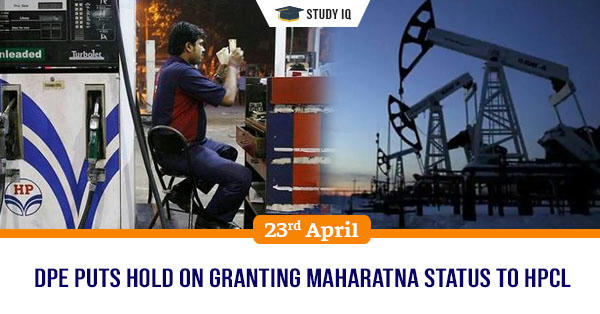 DPE puts hold on granting Maharatna status to HPCL
Date: 23 April 2019
Tags: Industries
Department of Public Enterprises (DPE) has put hold on proposal of Union Petroleum Ministry to grant Maharatna status to Hindustan Petroleum (HPCL) citing procedures and antecedents. Petroleum Ministry had pushed for this proposal to grant more autonomy to HPCL.
Reasons for hold
DPE has insisted that Petroleum Ministry should first obtain consent of HPCL's holding company Oil and Natural Gas Corp (ONGC) before resubmitting revised proposal on giving Maharatna status to HPCL. ONGC had bought Government's entire 51.11% share stake in HPCL for Rs 36,915 crore in 2018.
DPE has also asked Petroleum Ministry to give reasons for providing the exalted status to HPCL considering that ONGC was already a Maharatna company Currently, there is no previous instance of grant of Maharatna status to subsidiary Central public sector enterprise.
Hindustan Petroleum Corporation Limited (HPCL):
It is Indian oil and natural gas refining and marketing company. It was established in 1974 and is headquartered in Mumbai, Maharashtra. Currently it enjoys autonomy status of Navratna CPSE.
Ownership Conflict: It is a subsidiary of ONGC. ONGC had bought Government's 51.11 % share in 2018, thus becoming the promoter of the company. However, HPCL has been denying to identify ONGC as promoter on ground that majority of its Board Of Directors are from Union Government and not ONGC.
Maharatna Central Public Sector Enterprises (CPSEs)
Government had introduced "Maharatna" category for CPSEs in 2009 with objective to empower mega CPSEs to expand their operations and emerge as global giants or become Indian Multinational Companies (MNCs). This status is granted to CPSEs by Department of Public Enterprises (DPE), Ministry of Heavy Industries and Public Enterprises after they meet eligibility criteria.
Currently there are 7 CPSEs have Maharatna status. They are Bharat Heavy Electricals Limited, Coal India Limited, Indian Oil Corporation Limited, NTPC Limited, Oil & Natural Gas Corporation Limited, Steel Authority of India Limited, Bharat Petroleum Corporation Limited,
Eligibility Criteria for granting Maharatna status
CPSEs should be having Navratna status.

They should be listed on Indian stock exchange with minimum prescribed public shareholding under SEBI regulations.

They should have average annual turnover of more than Rs. 25,000 crore, during the last 3 years.

They should have average annual net worth of more than Rs. 15,000 crore, during the last 3 years.

They should have average annual net profit after tax of more than Rs. 5,000 crore, during the last 3 years.

Besides, they should also have significant global presence/international operations.
Benefits of Maharatna Status
It bestows greater autonomy or freedom to CPSEs from government control as well to incur capital expenditure on projects and purchases without any monetary ceiling. It also provides significant autonomy to CPSEs to pump equity in joint ventures and float subsidiaries, raise debt, undertake mergers and acquisitions without seeking approval.