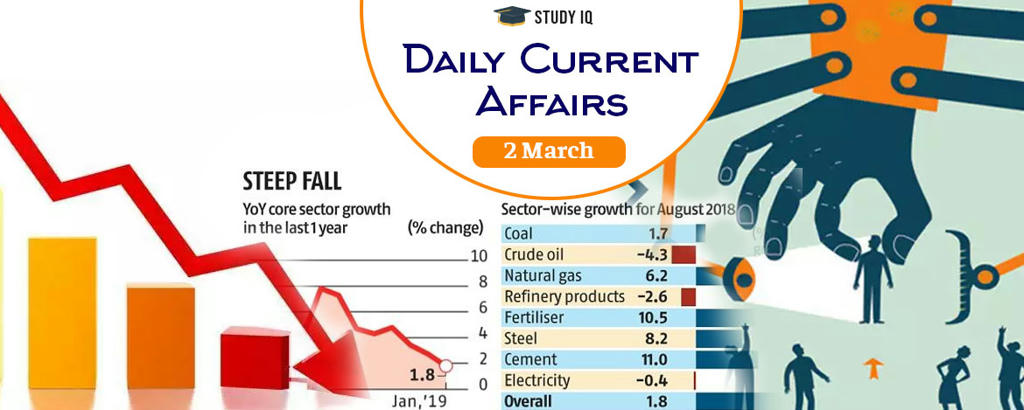 Core sectors record 1.8% growth in January 2019
Date: 02 March 2019
Tags: Industries
According to data released by Ministry of Commerce, index of the eight sectors has dropped to 1.8% in January 2019. It is lowest in the last 19 months. It was primarily due to lower production of electricity, crude oil and refinery products.
Sector wise breakaway in January 2019
Low Performers:

Production of crude oil, electricity and refinery products contracted by 4.3%, 0.4% and 2.6%, respectively. Coal and cement output growth also slowed to 1.7% and 11%.

Good Performers:

Natural gas, fertilisers and steel production grew 6.2%, 10.5% and 8.2%.
Previous performance
These core sectors had recorded 6.2% growth in January 2018. Moreover, they had recorded 4.5% growth rate during April-January 2018-19 against 4.1% growth in same period in 2017-18.
Impact of decline
Low overall output of core sectors in January 2019 is expected to impact the Index of Industrial Production (IIP) as these sectors comprise 40.27% of the weight of the items included in IPP.

Declining trend in core sector growth from October 2018 suggests continued weakness in industrial activities and weak second half economic growth.
About Index of Eight Core Industries (ICI)
It is monthly production volume index of eight core industries of the economy. It is considered as lead indicator of monthly industrial performance. Its base year is 2011-12.

It measures individual as well as collective performance of production in selected eight core industries viz. Petroleum Refinery Products, Natural Gas, Coal, Fertilizers, Crude Oil, Steel, Cement and Electricity.

It is compiled and released by Office of Economic Adviser (OEA), Department for Promotion of Industry and Internal Trade (earlier DIPP), Ministry of Commerce & Industry.

These eights industries are main industry of the economy i.e. are considered as backbone of all other industries. They have significant impact on general economic activities as well as industrial activities.

They constitute 40.27% of total of the weight of items included Index of Industrial Production (IIP).

Components and weightages of core sectors:

Petroleum Refinery production (weight: 28.04%), electricity generation (9.85%), Steel production (17.92%), Coal production (10.33%), Crude Oil production (8.98%), Natural Gas production (6,88%), Cement production (5.37%) and Fertilizers production (2.63%). Note: Highest weightage is for Petroleum Refinery production (weight: 28.04%) and lowest is for Fertilizers production (2.63%).