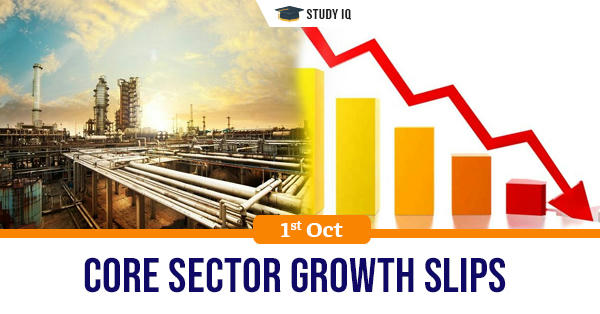 Core sector growth slips
Date: 01 October 2019
Tags: Industries
Issue
The output of India's eight infrastructure sectors contracted for the first time in more than four years according to the report released by the government.
Background
Indian businesses have been battling a demand slowdown and liquidity crunch, resulting in economic growth rate cooling to a six-year low of 5% in the June quarter, while private consumption expenditure dropped to an 18-quarter low of 3.1%.
Details
The core sectors reflect demand from the power and infrastructure sectors, where the government's own demand is important and public sector spending has been low in the last 3-4 months.

Output of coal (-8.6%), crude oil (-5.4%), natural gas (-3.9%), cement (-4.9%) and electricity (-2.9%) contracted in August, indicating a broad-based slowdown, while production of refinery products (2.6%), fertilizers (2.9%) and steel (5%) increased.

The coal sector saw the sharpest contraction, with the sector contracting 8.6% in August 2019 compared with a contraction of 1.6% in the previous month.

The crude oil sector contracted 5.4% in August, compared with a contraction of 4.4% in July.

The cement sector fell into negative territory in August, contracting 4.9%, compared with a growth of 7.9% in the previous month.

The natural gas sector contracted 3.9% in August, compared with a contraction of 0.5% in July.

The electricity sector also saw a contraction in August, contracting 2.9%, compared with a growth of 4.7% in the previous month.
Core industries
The Eight Core Industries comprise nearly 40.27% of the weight of items included in the Index of Industrial Production (IIP).

These are Electricity , steel, refinery products, crude oil, coal, cement, natural gas and fertiliser.
Implications
The latest macro data may also force the monetary policy committee (MPC) of the Reserve Bank of India to cut interest rates at its meeting later this week.