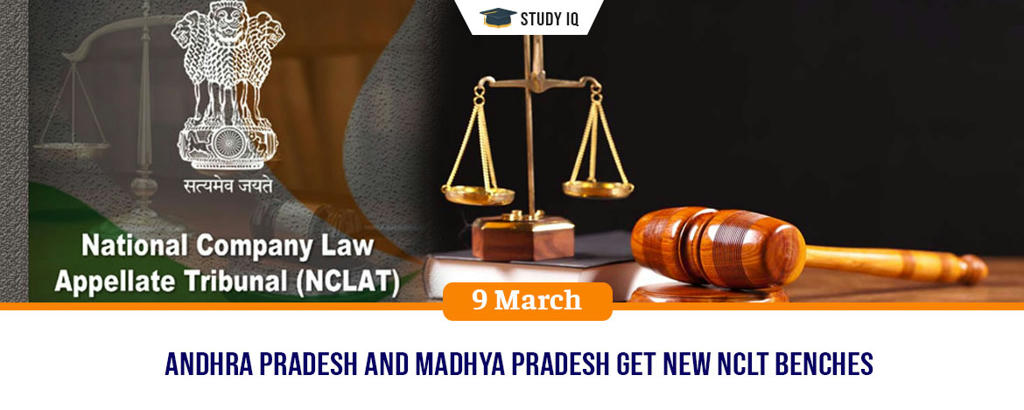 Andhra Pradesh and Madhya Pradesh get new NCLT benches
Date: 09 March 2019
Tags: Industries
Union Ministry of Corporate Affairs has approved establishment of two new benches of National Company Law Tribunal (NCLT) at Amaravati (Andhra Pradesh) and Indore (Madhya Pradesh). This decision was taken keeping in view increasing case load, especially under Insolvency & Bankruptcy Code 2016. These new benches will enable faster disposal of cases.
Jurisdiction of new benches of NCLT
Amaravati:

It will be in entire state of Andhra Pradesh. Prior to this, Andhra Pradesh was under jurisdiction of NCLT Bench at Hyderabad.

Indore:

It will be for entire state of Madhya Pradesh. Prior to this, Madhya Pradesh was under the jurisdiction of NCLT Bench at Ahmedabad.
National Company Law Tribunal (NCLT)
It is quasi-judicial body that adjudicates issues relating to Indian companies. It was established under the Companies Act 2013.

It was instituted based on recommendation of Justice Eradi committee on law relating to insolvency and winding up of companies.

It is adjudicating authority for insolvency resolution proceedings Companies Act, 2013, Insolvency and Bankruptcy Code (IBC) 2016 and Limited Liability Partnership (LLP) Act, 2008.

Composition:

It has 17 judicial members (including President) and 10 technical members.

Benches:

Presently, 14 numbers of NCLT benches have been established, including Principal Bench in New Delhi.

Appeals:

Decisions of NCLT can be appealed to National Company Law Appellate Tribunal (NCLAT). Besides, decisions of NCLAT may be appealed to the Supreme Court of India on a point of law.