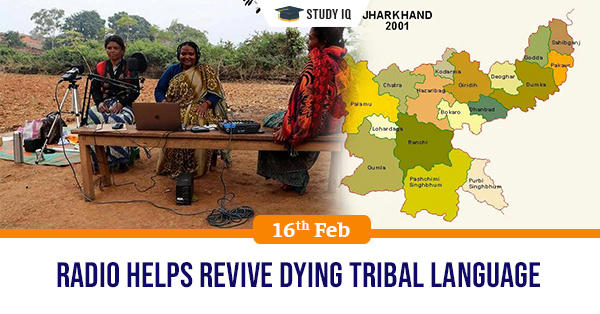 Radio helps revive dying tribal language
Date: 16 February 2020
Tags: Indian Tribes
Issue
The Asur community of Jharkhand has been spreading the popularity of the language within their geographical limits using mobile radio.
Background
The Asur language figures in the list of UNESCO Interactive Atlas of the World's Languages in Danger. Of the 32 different tribes recorded in the State, only four to five tribes, including Santhali, Ho and Kuruk, have recorded language scripts.
Details
The first transmission of a half-an-hour programme was organised near Netarhat on January 19. Since then, the pre-recorded radio programmes have been aired on 16 different occasions.

Radio programmes are based on incidents happening in different parts of world and also news relating to the community.
Asur tribes
Asur people are a very small Austroasiatic ethnic group living primarily in the state of Jharkhand, mostly in the Gumla, Lohardaga, Palamu and Latehar districts.

Asurs are traditionally iron-smelters. They were once hunter gatherers, having also involved in shifting agriculture. However, majority of them shifted into agriculture with 91.19 percent enlisted as cultivators.

The Asur religion is a mixture of animism, animatism, naturalism and ancestral worships. They also believe in black magic like bhut-pret (spirits) and witchcraft.

Their chief deity is Singbonga. Amongst the other deities are Dharati Mata, Duari, Patdaraha and Turi Husid.

They celebrate festivals like Sarhul, Karma, Dhanbuni, Kadelta, Rajj karma, Dasahara Karam.

The Asur follow the rule of monogamy, but in case of barrenness, widower and widow hood, they follow the rule of bigamy or even Polygamy. Widow remarriages are permissible.

They are one among the 9 PVTG that are found in Jharkhand. They speak a language known as 'Asur language'.

Only 7,000 to 8,000 Asur tribals are left in the community who are well conversant in the language.