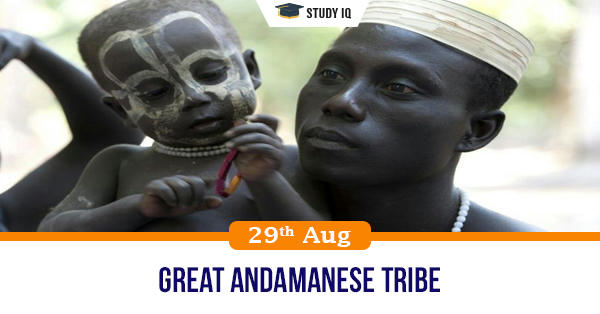 Great Andamanese tribe
Date: 29 August 2020
Tags: Indian Tribes
Issue
Nine members of the dwindling Great Andamanese tribe have tested Covid-19 positive, setting off alarm bells in the Union Territory.
Background
It is for the first time that cases are reported from among the five Particularly Vulnerable Tribal Groups (PVTGs) living in the islands.
Details
Besides the Great Andamanese, the other four PVTGs are Jarawas, Onges, Sentinelese and Shorn Pens. Among the five, the Great Andamanese are the only ones who visit and live in the capital city of Port Blair frequently.

The PVTGs are communities that are more vulnerable among tribal groups, and are put under a special category by the government of India.

Unlike the other PVTGs in the Andamans, the Great Andamanese are in contact with the general population since they visit Port Blair frequently, thereby making them more vulnerable to Covid-19.
Great Andamanese
Anthropologists classify the Great Andamanese as part of the Negrito tribes that inhabit isolated parts of Southeast Asia and the Andaman Islands.

Recent studies by geneticists indicate that the Andamanese are possibly related to the Negritos of the Malay peninsula and in the Philippines.

Originally, the Great Andamanese were ten distinct tribes, including the Jeru, Bea, Bo, Khora, and Pockiwar, each with its own separate language.

Later, many were wiped out in epidemics brought in by the colonisers, such as measles, syphilis, and influenza.

The language of the Great Andamanese, Sare, has largely been lost, with the last surviving speaker dying earlier this year. The tribe now speaks mostly Hindi.

Major factors contributing to the diminishing population of the Great Andamanese include environmental disturbances, contagious diseases as a result of contact with city dwellers, and a high mortality rate assisted by addictions to alcohol, tobacco, and opium.