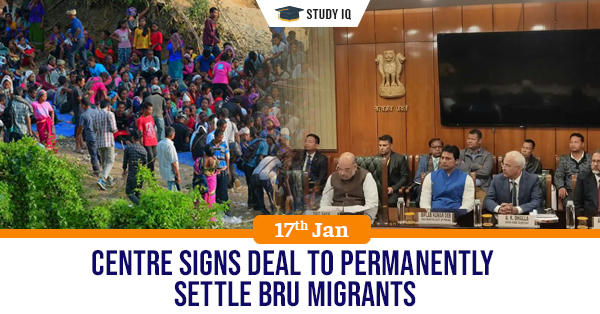 Centre signs deal to permanently settle Bru migrants
Date: 17 January 2020
Tags: Indian Tribes
Issue
The Centre has signed a quadrupartite agreement to resolve the 22-year-old Bru displacement crisis in Tripura and announced that over 30,000 Bru migrants would be settled in the state.
Background
37,000 people from Bru communities fled Mamit, Kolasib and Lunglei districts of Mizoram during ethnic clashes in October 1997. They were sheltered in six relief camps in Kanchanpur and Panisagar sub-divisions of North Tripura district.
Details
The agreement would basically redirect the entire package, previously announced for repatriation to Mizoram, which includes Rs 1.5 lakh housing assistance to the migrants into three installments: Rs 4 lakh one-time cash assistance for sustenance to be handed over after 3 years, Rs 5,000 monthly cash assistance, and free ration for two years to migrants who wish to be permanently settled in Tripura.
Bru/Reang tribe
Reang are one of the 21 scheduled tribes of the state of Tripura. The Bru can be found all over the Tripura state in India. However, they may also be found in Mizoram and Assam.

They speak the Reang dialect of Bru language which is of Tibeto-Burmese origin and is locally referred to as Kau Bru.

The Reangs are primarily an agrarian tribe. In the past, they mostly practised the Huk or Jhum cultivation like most other Tripuri tribes.

The Hojagiri folk dance of Reang sub tribe is rather well known all over the world. 'Buisu' is the most popular festival of reang tribes.

The majority of the Reang belong to the Vaishnav school of Hinduism and claim Kshatriya status.