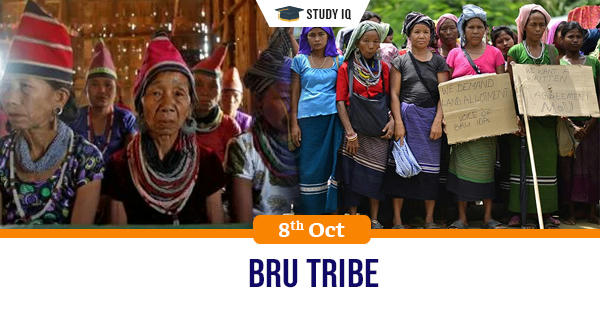 Bru tribe
Date: 08 October 2019
Tags: Indian Tribes
Issue
Large number of Bru women living in relief camps of Tripura are protesting against the death of a Bru woman, burnt alive by her husband in Mizoram.
Background
Large numbers of ethnic Bru tribes have been living in Tripura from last couple of decades after they were driven away from Mizoram after clashes with the native Mizos.
Since this incident Bru have been treated as intra country refugees.
Bru tribes
Reang (known in Mizoram as Brus) are one of the 21 scheduled tribes of the Indian state of Tripura.

The Bru can be found all over the Tripura state in India. However, they may also be found in Mizoram, Assam, Manipur and they speak the Reang dialect of Bru language which is of Tibeto-Burmese origin.

The Bru are the second most populous tribe of Tripura after the Tripuris.

The Reangs are primarily an agrarian tribe. In the past, they mostly practised the Huk or Jhum cultivation like most other Tripuri tribes. However today, most of them have adopted modern agricultural practices.
Bru-Mizo conflict
The first signs of a conflict between the Brus and the Mizos, the majority tribe of the state, emerged in 1995.

Two Mizo organisations, the Young Mizo Association and Mizo Zirlai Pawl, or the Mizo Students' Association, reportedly demanded that Brus be left out of the state's electoral rolls, contending that the tribe was not indigenous to Mizoram.

This led to a reactionary militant movement among the Brus that was led by an armed outfit called the Bru National Liberation Front, and a political body called the Bru National Union.

The two organisations wanted more political autonomy for Mizoram's Brus, and demanded a Bru Autonomous District Council.

In 1997, militants of the Bru National Liberation Front allegedly shot down a Mizo forest guard at the Dampa Tiger Reserve.

The incident evoked a hostile reaction, and the Brus were at the receiving end of a violent backlash by the Mizos, forcing the Brus to flee the state in large numbers to neighbouring Tripura.