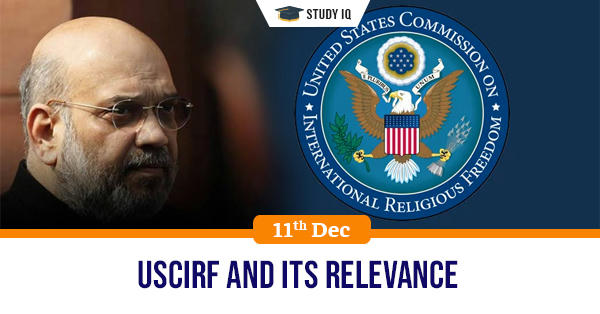 USCIRF and its relevance
Date: 11 December 2019
Tags: India & World
Issue
The United States Commission on International Religious Freedom (USCIRF) said that should The Citizenship (Amendment) Bill (CAB) go through Parliament, Washington should in-turn consider imposing sanctions on Union Home Minister Amit Shah.
Background
The International Religious Freedom Act of 1998 was passed by the 105th US Congress (1997-99) and signed into law by the then President Bill Clinton on October 27, 1998. It is a statement of the United States' concern over violations of religious freedoms overseas.
Details
The USCIRF describes itself as an independent, bipartisan US federal government commission that was created by The International Religious Freedom Act (IRFA).

The USCIRF is mandated by US statute to "monitor the universal right to freedom of religion or belief abroad using international standards to do so and makes policy recommendations to the President, Secretary of State, and Congress.

USCIRF Commissioners are appointed by the President and Congressional leaders of both political parties. While USCIRF is separate from the State Department, the Department's Ambassador-at-Large for International Religious Freedom is a non-voting ex officio Commissioner.

The USCIRF's main responsibilities are:

To issue an annual report by May 1 of each year, assessing the US government's implementation of IRFA.

To engage Congress by working with Congressional offices, advising on legislation, testifying at hearings, and holding briefings on religious freedom issues.

To meet regularly with Executive Branch officials, including the Departments of State and Homeland Security, to share information, highlight situations of concern, and discuss USCIRF's recommendations for US policy.