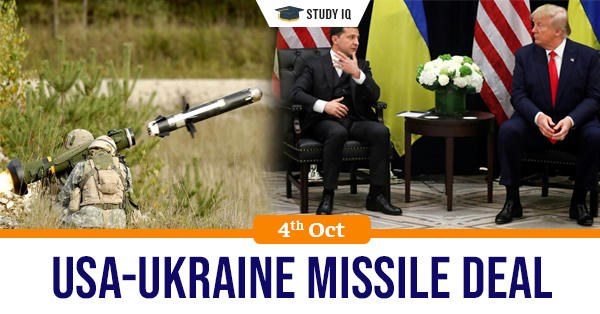 USA-Ukraine missile deal
Date: 04 October 2019
Tags: India & World
Issue
The U.S. State Department has approved a sale of military equipment to Ukraine that includes 150 anti-tank missiles to help fight Russia-backed separatists.
Background
The U.S. has been providing assistance to Ukraine since Russia-backed separatists invaded in 2014 after the ouster of a Kremlin-backed leader in the Eastern European country that was once part of the Soviet Union.
Crimean crisis
The Crimean Peninsula was annexed by the Russian Federation in 2014 and since then has been administered as two Russian federal subjects—the Republic of Crimea and the federal city of Sevastopol.

The annexation from Ukraine followed a Russian military intervention in Crimea that took place in the aftermath of the 2014 Ukrainian revolution and was part of wider unrest across southern and eastern Ukraine.

The United States and the European Union threatened and later enacted sanctions against Russia for its role in the crisis, and urged Russia to withdraw.

Russia has accused the United States and the EU of funding and directing the revolution and retaliated to the sanctions by imposing its own.
Reasons for Crimea annexation
Pro-west policies of Ukraine president.

Development of strategic infrastructure along the sea of Azov, which undermined Russian dominance.

If Ukraine is successful in developing natural gas extraction, Russia will lose one of its largest buyers of natural gas.

Ukraine had been the second-most important contributor to the former Soviet Union's economy. It provided one-fourth of Soviet agricultural output. It supplied heavy industrial equipment and raw materials to industrial sites throughout the former USSR.