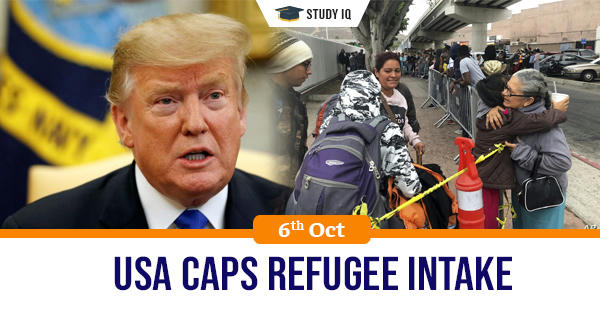 USA caps refugee intake
Date: 06 October 2019
Tags: India & World
Issue
The U.S. government has limited the number of refugee admits for FY-2020 at 18,000, the lowest since 1980.
Background
After President Donald Trump assumed office in 2017, he temporarily suspended the resettlement of Syrian refugees along with banning individuals from seven Muslim majority countries from entering the U.S. on most visa categories.
Details
The administration has also given local governments the right to refuse refugees for resettlement for the first time in history.

The U.S. will admit refugees from priority categories this year rather than accepting them solely from pre-determined regions of the world.

It was also found out that a higher proportion of racial minorities, women, and those with higher levels of education said the U.S. had a responsibility to take refugees compared to whites, men and those with lower levels of education.
Reasons for policy change
The administration feels that previous administrations' refugee policies did not adequately take into account national security or foreign policy concerns.
Global refugees
There are just under 71 million displaced persons worldwide, according to the UN High Commissioner for Refugees (UNHCR). Forty-one million of these are internally displaced, 26 million are refugees, and some 3.5 million are asylum seekers.

In 2018, some 67% of refugees came from Syria, Afghanistan, South Sudan, Myanmar and Somalia, and 80% of refugees live in countries that neighbour their countries of origin.

Turkey has topped the list of host countries for refugees since 2014. Pakistan and Uganda have, at least in the last two years, come in at second and third place, respectively.