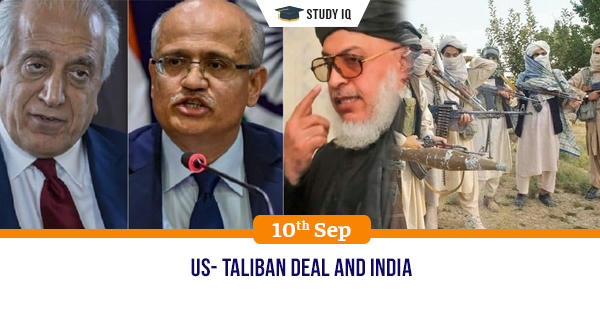 US- Taliban deal and India
Date: 10 September 2019
Tags: India & World
Issue
Iran's ambassador to India has criticised US's move to makea deal with Taliban which would ensure return of extremist Taliban. The concerns expressed by Iran has been reflecting India's position on Taliban deal.
Background
US President Donald Trump has said that he called off peace negotiations with the Taliban that sought to end America's 18-year war in Afghanistan.The deal would have allowed US to withdraw its troops from Afghanistan gradually.
Details
The main problem with the deal being negotiated between U.S. special envoy Zalmay Khalilzad and Taliban representatives in Doha was that Afghan government was not at the table for the talks.

Iran was invited to regional talks on the Afghanistan peace process in Beijing, attended by China, Russia, U.S. and Pakistan, but had declined to attend because the Official government was not represented.

Indian experts reckon that the deal would have put a question mark over everything from the government and constitution to the election process in Afghanistan.
Implications
The biggest loser from the development is Pakistan, which controlled various Taliban leaders, who in turn would have acted as its proxies in Afghanistan.

India is also expected to benefit from the no-deal as the withdrawl of troops from Afghanistan would have made indian assets vulnerable to Pakistan- controlled militia and would push Afghanistan back into the era of civil war.