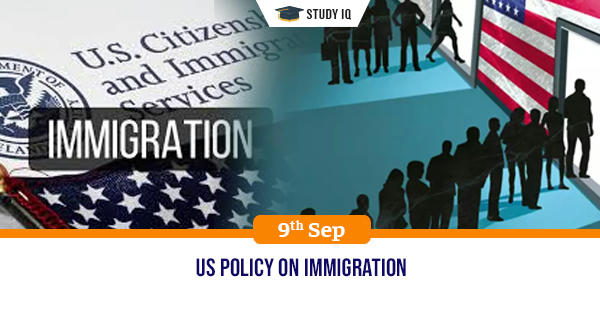 US policy on immigration
Date: 09 September 2019
Tags: India & World
Issue
The trump administration has set out to make it harder for people to come to the US, stay there and become citizens by legislating new policies on immigration.
Background
In recent days, several rules were pushed through by the administration regarding immigration. This applies to both legal and illegal immigration.

The net effect of this rule is to pressure would-be immigrants to get off benefits they are legally entitled to and also to develop a system that favours wealthier, better-educated, younger immigrants who have better English speaking skills.
Details
The first of these policy tweaks was aimed at legal immigrants and involved changes to the "public charge" rule. If an individual is seeking admission to the U.S., or looking to change his immigration status and get a green card, he can be deemed inadmissible (or ineligible) .

The Trump administration's changes, will make it easier to designate potential immigrants as being at risk of depending on state funds and consequently making it easier to deny them green cards.

Factors that would go against the potential immigrant include not having an annual income of at least 250% of the Federal Poverty Guidelines medical conditions, being old and having poor English language skills.

Another rule change in will make it harder for children born to naturalised U.S. citizens serving in U.S. Embassies or stationed on U.S. military bases abroad to acquire citizenship at birth.