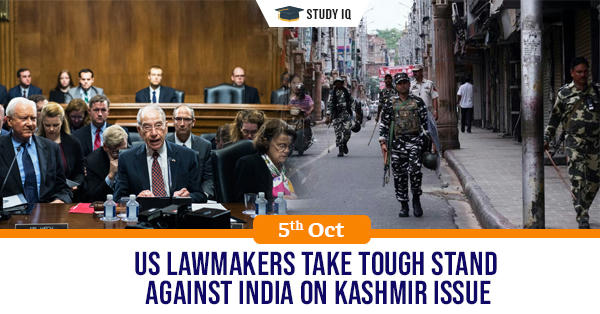 US lawmakers take tough stand against India on Kashmir issue
Date: 05 October 2019
Tags: India & World
Issue
The United States Senate Committee on Foreign Relations has added an appeal to end the crisis in Kashmir in its report ahead of the annual Foreign Appropriations Act for 2020.
Background
The amendment was proposed by Senator Chris Van Hollen, who visited Delhi this week as a part of a congressional delegation that discussed the Kashmir situation as well as India-U.S. bilateral relations, trade ties and defence purchases.
Details
The committee calls on the Government of India to fully restore telecommunications and Internet services, lift lockdown and curfew and release individuals detained after revocation of Article 370 of the Indian constitution.

The Senator wanted to visit Kashmir to see the situation first-hand but was not allowed by the Indian government.

The government has cited security concerns for denying the request by the Senator to visit Kashmir.

The Senator is a key member of the House Appropriations Committee and played an important role in including tough language on J&K in the Appropriations Bill, which was unanimously adopted last week.
American views on J&K
America has always pushed for a bilateral solution for the Kashmir issue eventhough Pakistan has continuously pressed for interference.

The American stand has been undergoing a change recently after President Trump offered to mediate in the issue, which was appropriately rejected by India.
Reasons for change in American stand
The US has been trying to put pressure on India to loosen its trade policies for American companies which has earlier been denied. This can be a pressure tactic.

The US has been strongly opposed to India buying S400 Air Defence System from Russia and has clearly threatned to levy sanctions. By using offensive method US may be trying to exert pressure on India.