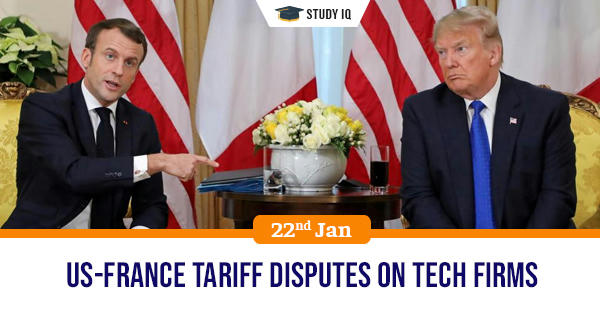 US-France tariff disputes on tech firms
Date: 22 January 2020
Tags: India & World
Issue
US President Donald Trump and French President Emmanuel Macron have agreed to postpone an increase in tariffs between the two countries.
Background
In July 2019, France imposed a 3 per cent tax on digital revenue earned in the country by tech firms having sales of more than EUR 750 million globally or more than EUR 25 million in France.
Details
American tech giants, such as Google, Amazon, and Apple were hit by the levies. In retaliation, the Trump administration threatened to place tariffs of up to 100 per cent on USD 2.4 billion of French imports including wine, cheese, and lipstick.

France has since buckled under US pressure and agreed to postpone the enforcement of the tax.

Efforts have been underway to find out ways to tax tech revenues, since tech companies often pay little tax in countries in which they are not physically present, thanks to older tax regimes.

Policymakers across the world have had difficulty in taxing the US-based giants who dominate their sectors internationally, but who often route their revenues and profits via low-tax jurisdictions to reduce their liabilities.

Apart from France, other countries such as Austria and Italy have introduced plans to tax online sales and advertising revenues. Canada and the UK have also been exploring possibilities to reform their policies.
GAFA Tax
France has been pushing hard for a new so-called "GAFA tax", named after Google, Apple, Facebook and Amazon, to ensure the global giants pay a fair share of taxes on their massive business operations in Europe.

The Organisation for Economic Cooperation and Development, which groups major world economies, is working on a proposal for a new international scheme that would regulate taxation on tech firms.