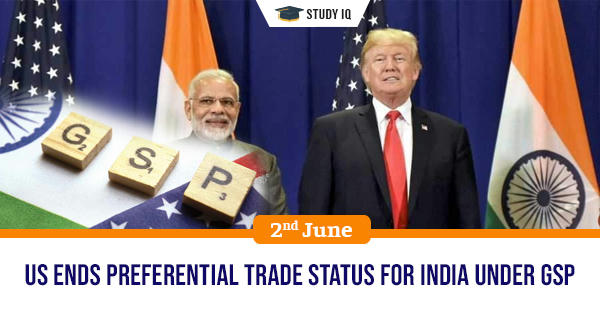 US ends preferential trade status for India under GSP
Date: 02 June 2019
Tags: India & World
United States has officially announced termination of preferential trade treatment to India as a beneficiary developing nation under GSP (Generalised System of Preferences) trade programme from June 5, 2019. It was announced after US claimed that India has not assured that will provide equitable and reasonable access to its markets to US goods.
Background
US has announced this withdrawal of special duty benefits under Generalized System of Preferences (GSP) to Indian in March 2109 and to come into force from the first week of May 2019 after 60 days of notification sent to US Congress followed by enactment of Presidential Proclamation.
However, US had decided to postpone implementation of its decision until May 23, 2019 till new Government is elected in India.
About Generalised System of Preferences (GSP)
It is preferential tariff system extended by developed countries to developing countries. It also known as preference receiving countries or beneficiary countries. It was introduced in 1976.

It is preferential arrangement in sense that it allows concessional low or zero tariff imports from developing countries.

Developed countries including US, EU, UK, Japan etc gives GSPs to imports from developing countries.

It is designed to promote economic development by allowing duty-free entry for thousands of products from designated beneficiary countries both developing and developed countries.

Objective of US-GSP:

(i) Give development support to poor countries by promoting exports from them into developed countries. (ii) Promote sustainable development in beneficiary countries by helping these countries to increase and diversify their trade with US.

Criteria for US:

Providing US with equitable and reasonable market access, respecting arbitral awards in favour of US citizens or corporations, providing adequate and effective intellectual property protection, combating child labour and respecting internationally recognised worker rights, among others.

Benefits:

Under it, wide range of industrial and agricultural products originating from certain developing countries are given preferential access to US markets.

In India's case:

GSP enables duty-free entry of 3,500 goods in US markets, which benefits exporters of agriculture, textiles, engineering, gems and jewellery and chemical products.

Total US imports under GSP in 2017 was $21.2 billion, of which India was largest beneficiary with $5.6 billion, followed by Thailand ($4.2 billion) and Brazil ($2.5 billion).
Impact on India
Bilateral trade between India and US stood at $74.5 billion in 2017-18. US has trade surplus of $27.3 billion. Terminating GSP status will put to end duty-free import of around 1900 goods from India into US. It will be strongest punitive action taken by President Donald Trump against as part of agenda of reducing US deficit with large economies.
According to Government, this withdrawal will not have any major impact on overall Indian exports to US as concessions availed under this scheme were minimal. Total GSP benefits availed by India under GSP programme were to tune of $190 million on trade $5.6 billion. So, benefits both in absolute sense, and as percentage of trade involved, are very minimal and moderate