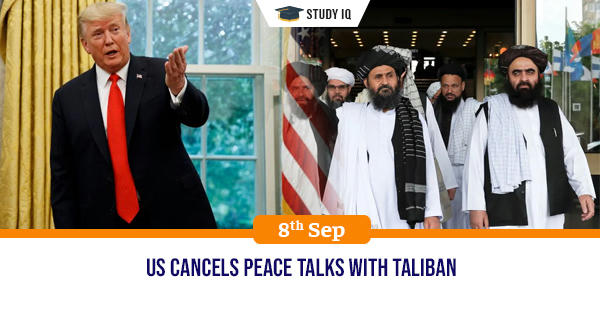 US cancels peace talks with Taliban
Date: 08 September 2019
Tags: India & World
Issue
U.S. President Donald Trump has said that he cancelled peace talks with Afghanistan's Taliban leaders after the insurgent group said it was behind an attack in Kabul that killed an American soldier and 11 other people.
Background
U.S. and Taliban negotiators had struck a draft peace deal which could have led to a withdrawl of U.S. troops from America's longest war. But a wave of Taliban violence has cast a long shadow over the deal.
Details
Under the draft accord, thousands of U.S. troops would have been withdrawn over the coming months in exchange for guarantees that Afghanistan would not be used as a base for militant attacks on the United States and its allies.

A full peace agreement to end more than 18 years of war would depend on subsequent talks with all stake holders.

The Taliban have rejected calls for a ceasefire and instead stepped up operations across the country.
Consequences
There are fears that a civil war can emerge due to differences between ethnic Pasthuns and Tajiks. This ethnic differences was the foundation for civil war and unrest in Afghanistan in 1990's.

The unrest in Afghanistan will unsettle India's trade and investment plans. India-developed infrastrfucture will face a threat from talibani extremists. This will create chaos in Indian influenced neighborhood of South Asia.