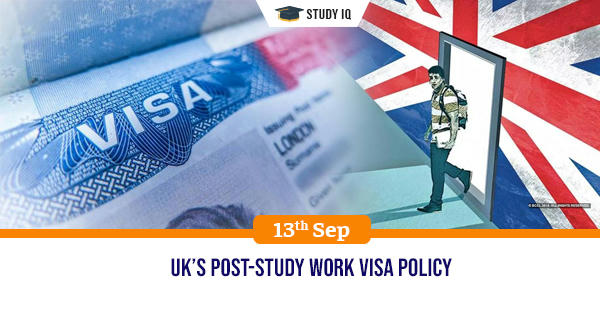 UK's post-study work visa policy
Date: 13 September 2019
Tags: India & World
Issue
The UK government has announced a new two-year post-study work visa route from next year. Under the new graduate visa route, students from anywhere including India would be able to work or even look for work at any skill level.
Background
The UK had the post-study work visa scheme till 2012. The government then scrapped the provision which facilitated students to pursue employment after completing their education.
Details
The new post-study work visa route announced by the Boris Johnson government will allow Indian students to stay back in the United Kingdom for two years to find work after graduation.

Students entering the UK in the 2020-21 academic year in take will be eligible for this route and universities, stakeholders and customers preparing for the next academic year are aware of this change and can prepare accordingly.

The new graduate immigration route supports the ambitions of students, who consider post-study work option as an important factor when making their choice of studying abroad.

The visa will be two years long and will be a separate visa, requiring a new application, including payment of a visa fee and immigration health surcharge. The route is non-extendable and does not count towards settlement.