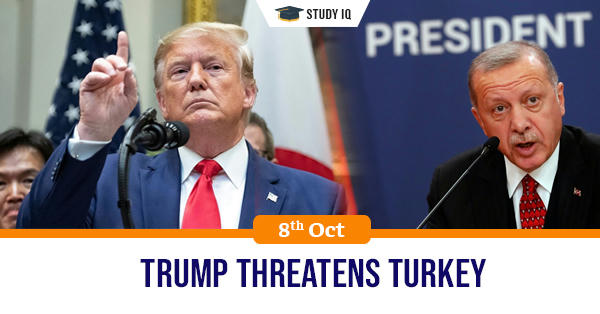 Trump threatens Turkey
Date: 08 October 2019
Tags: India & World
Issue
US President Donald Trump has warned NATO ally Turkey, threatening to destroy its economy if Ankara takes a planned military strike in Syria.
Background
The United States began pulling troops back from the northeast Syrian border, effectively giving Turkey a green light to move into the area and capture it.
Details
Turkey has repeatedly threatened to carry out an incursion against U.S.-backed Kurdish fighters in north eastern Syria who have links to Kurdish guerrillas operating next door in Turkey

Trump has said that Turkey could suffer the "wrath of an extremely decimated economy" if it acted in Syria in a way that was against the spirit of humanity.

Turkey's lira slid more than 2% to its lowest level in more than a month against the dollar over concerns about the planned incursion into northern Syria and Trump's warning.
Implications
The U.S. withdrawal will leave Kurdish-led forces in Syria that have long allied with Washington vulnerable to a planned incursion by the Turkish military which brands them terrorists.

The U.S. decision to withdraw from north eastern Syria could open the door to a revival of Islamic State, which has suffered significant battlefield losses to a U.S -led coalition in the area.