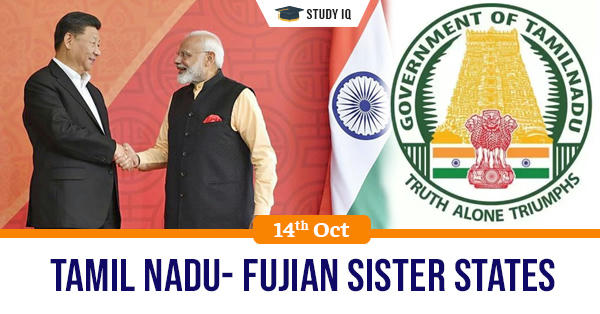 Tamil Nadu- Fujian sister states
Date: 14 October 2019
Tags: India & World
Issue
India and China have decided to establish sister-state relations between Tamil Nadu and Fujian Province.
Background
This was undertaken after Prime Minister Narendra Modi initiated number of ideas on the connect between the Indian State and the Chinese Province during his discussion with Chinese President Xi Jinping during the second India-China informal summit, in Mamallapuram.
Details
The two countries have also agreed to explore the possibility of establishing an academy to study links between Mamallapuram and the Fujian Province on the lines of the experience between Ajanta and Dunhuang, besides conducting research on maritime links.
Sister states or sister city pacts
Sister cities or twin towns are a form of legal or social agreement between towns, cities, counties, oblasts, prefectures, provinces, regions, states, and even countries in geographically and politically distinct areas to promote cultural and commercial ties.
Benefits
Agreements to bring investments, ideas for urbanisation and also find markets for products and businesses of respective cities and states.

India and China sister cities or provinces
Delhi-Beijing

Bengaluru-Chengdu

Kolkata-Kunming

Ahmedabad - Guangzhou.

Gujarat –Guangdong

Karnataka-Sichuan

Chennai-Chongqing

Hyderabad-Qingdao

Aurangabad-Dunhuang